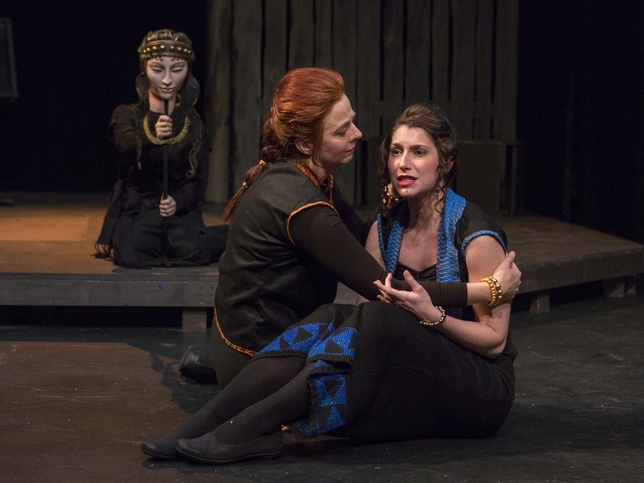 Is the siege of Troy the most frequently retold story in history? Since Homer and the Greek tragedians, the stories of Helen, Agamemnon, and Odysseus have been the inspiration for everything from operas to graphic novels. We've now reached the meta level with "Iphigenia in Aulis," in a new production at La MaMa from Untitled Theater Company #61 whose strong performances are undermined by confused creative direction by Edward Einhorn, who also adapted from Euripides' original.
The script owes less to the classic tragedy than it does to "Age of Bronze," a comic retelling by cartoonist Eric Shanower, Einhorn's friend and collaborator on this production. Shanower's work is meticulous in detail and bold in its approach, but affection for the source material seems to keep Einhorn from editing the elements that fail to translate to the stage. The most obvious of these is the use of masks. Each player carries one that recalls Shanower's illustrations. Although beautiful, they often serve as a distraction, even a misdirection: sometimes characters address the actor's mask rather than the actor; other times the masks act as merely a player's staff or sword. Of course, masks were worn in Greek times too, but their use allowed one actor to embody multiple characters. Here it hinders actors from embodying any character at all, leaving their corporeality in limbo. The viewer ends up missing some key moments, unsure whether to follow the mask or the actor.
Luckily, several of the performances are strong enough to demand attention, masks be damned. Just as in Euripides' story, the women overshadow their male counterparts. Laura Hartle is luminous as Iphigenia, moving from buoyant innocence to strength with a quiet grace. Even more riveting is Ivanna Cullinan's Klytemnestra, whose initial cool confidence crumbles into the tempestuous rage of a mother wronged. Her flinty gaze as the lights dim is chilling, a hint of what will befall Agamemnon years later when he returns from Troy.
If looking at the performances of Hartle and Cullinan alone, "Iphigenia in Aulis" would be a worthy reinterpretation of the classic tragedy. Unfortunately, their impact is softened by Einhorn's aggressive attempts to "update" Euripides with a modern chorus. Dressed for a mosh pit—ripped leggings, denim vests—the trio of women (Jenny Lee Mitchell, Sandy York, and Emily Clare Zempel) comments on the action from the sidelines. Most of Einhorn's script retains a simplified but effective version of Euripides' solemn poetry, but the chorus speaks in bored profanity (Helen is "that fucking bitch"). More cringe-inducing are the choral odes, reinterpreted here as halfhearted rock by Aldo Perez that oscillates between tepid and strident.
As jarring as these additions are, they're not unforgivable until they intrude upon the climactic moment: Iphigenia's sacrifice. After a moving declaration of Iphigenia's resolve, Hartle suddenly grabs a mike and launches into a numbing anthem that loses all trace of the actor's former poise. It makes you thank Zeus that the Greeks had no concept of karaoke.
Presented by Untitled Theater Company #61 at La MaMa E.T.C., 74 E. Fourth St., NYC. Feb. 15–March 3. (866) 811-4111, (212) 475-7710, www.theatermania.com, or www.lamama.org.
Critic's Score: C