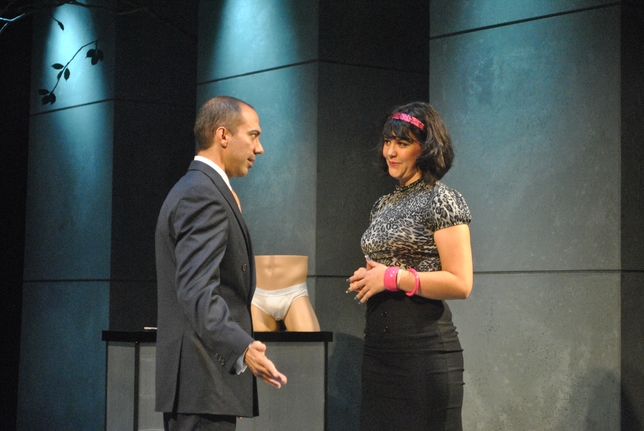 "The Eyes of Others" begins with two businessmen standing in a city plaza during their lunch hour and talking. They talk about food, but they never actually eat any. Eventually, we learn they have been coming here every weekday during lunch hour for years and that a third person has stood across the plaza and watched them every day for years as well.
The New Ohio Theatre, which has chosen "The Eyes of Others" to launch its first full season in its new home on Christopher Street, bills it as the first Bulgarian play to receive a "major New York production." But while it is true that author Ivan Dimitrov is a published Bulgarian novelist, poet, and short-story writer, his first produced play takes place in a landscape far more familiar to most New York theatergoers than Bulgaria. We are back in the theater of the absurd, the land of Beckett and Albee and their less imaginative descendants. If there is something of a plot—or anyway a plot twist—in "The Eyes of Others," the play is ultimately a thin, derivative work.
It does, however, have its charms. There is one good sight gag, a few intriguing lines, and several first-rate performances. The standout is Zoë Winters, who was excellent as the tough ex-girlfriend in "4000 Miles." Here she is transformed into a sexy saleslady in tight-fitting attire who works at a newly opened shop selling only underwear and socks. The shop is just off the plaza, and one cold day one of the businessmen (they are not given names) visits it just to keep warm. Winters' shop girl (again, no name) flickers through a range of emotions so vividly, from boredom to anger to eagerness to sadness to lust to greed, that you want to build a show around her.
Evan Zes and Michael Frederic are persuasive as businessmen who show off expensive Porsche and Armani watches but never say what their jobs are; their careers and family life seem less important to them than that daily hour in the plaza. Danielle Skraastad is fun to watch as the only character given a name, Jackie, wife of one of the businessmen, especially in a difficult monologue about delivering a baby who emerged from the womb dressed in business clothes.
David L. Arsenault's set is spot-on in its evocation of those dull modern municipal plazas with their mammoth granite-like columns. Angela Rodel has translated the script into believably colloquial English, though whether some of the Bulgarianness was lost in the process is something I am not knowledgeable enough to say. It is important to point out, however, that since the fall of the Iron Curtain two decades ago, Bulgaria has become a democratic republic, a member of both NATO and the European Union. Don't mistake it for a repressive place like Belarus, a thousand miles to the north, whose brutal absurdist theater is an exercise in journalism and an act of heroism.
Presented by the New Ohio Theatre and Bug Company at the New Ohio Theatre, 154 Christopher St., NYC. Sept. 8–29. Wed.–Sat., 7:30 p.m. (Additional performances Sun., Sept 23, 3 p.m.; Tue, Sept. 25, 7:30 p.m.) (212) 868-4444, www.smarttix.com, or www.newohiotheatre.org.
Critic's Score: C