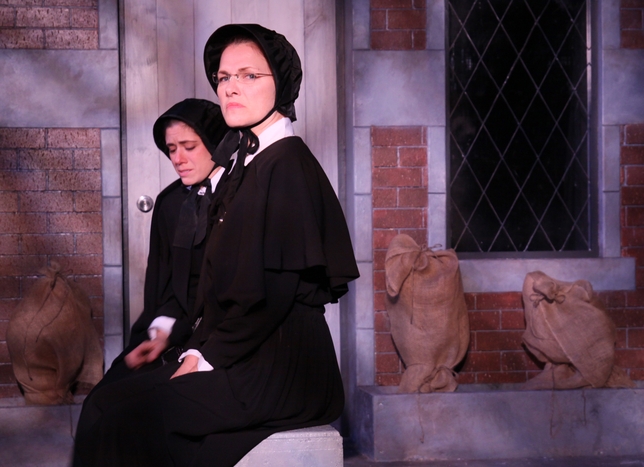 Any production of John Patrick Shanley's Pulitzer Prize–winning "Doubt" playing in Manhattan these days inevitably falls under the shadow of the original 2005 Broadway edition starring Cherry Jones and Brían F. O'Byrne, not to mention the Shanley-directed 2008 film with Meryl Streep and Philip Seymour Hoffman. The virtue of T. Schreiber Studio & Theatre's workmanlike staging, directed by Peter Jensen, is that it provides an opportunity to see this modern classic in an intimate setting.
Set in the Bronx in 1964, "Doubt" tells of Father Brendan Flynn (Mike Roche), a reform-minded Catholic priest and teacher who becomes locked in a battle with an imperious, old-school nun named Sister Aloysius Beauvier (Alice Barrett Mitchell). Sister Aloysius suspects that Father Flynn may be a pedophile who has molested the school's first African-American pupil. She becomes determined to undo him, though the evidence against him is circumstantial at best.
The role of Sister Aloysius is an incredibly rich one. The character is haughty, crafty, and outspoken. Mitchell makes the nun notably dour. I was surprised how few of the outrageous things that come out of her mouth provoked a laugh from the audience. It's true that Sister Aloysius is self-satisfied and self-contained, with little regard for what others feel or say. But in her first scene, opposite the timid young Sister James (Nora Jane Williams), Mitchell charges through her lines without registering what her partner is saying. To her credit, in the scenes between Sister Aloysius and Father Flynn, Mitchell is more fully engaged.
Roche is convincing as Flynn. The actor delivers fragments of the priest's sermons in the same strong, deep, flat voice he uses when Father Flynn coaches his students in basketball. The hyper-masculine vocal quality may be a way of assuring parishioners he's a straight-and-narrow guy, not a child molester. Or maybe he really is on the straight and narrow. In another smart choice, when Father Flynn telephones a bishop after the final showdown with Sister Aloysius, Roche repeatedly clears his throat, as though the priest is trying to dislodge something—it could be shame or fear—that chokes him.
Williams is appropriately earnest and anxious as Sister James, and the talented Brenda Crawley is excellent as the mother of the boy who may have been molested. This is the sharply written role that earned Adriane Lenox a Tony Award and Viola Davis an Oscar nomination, and Crawley makes it fully her own.
Some spatial configurations among the characters seem a bit odd. Would Sister James and Father Flynn be quite so comfortable sitting in a near embrace on a garden bench in broad daylight? Would Sister Aloysius stand nose to nose with Father Flynn during their final confrontation, rather than vanquishing him from a distance? She is banishing him, after all, not going for his jugular.
Such quibbles aside, in this production "Doubt" remains an appealingly unsolvable puzzle of a play.
Presented by and at T. Schreiber Studio & Theatre, 151 W. 26th St., NYC. Oct 10–Nov. 18. (212) 352-3101, (866) 811-4111, www.theatermania.com, or www.tschreiber.org.
Critic's Score: B