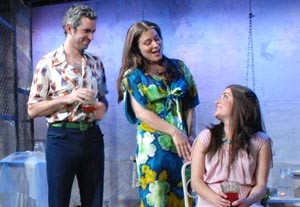 As with several of his plays, Alan Ayckbourn's 1979 comedy "Joking Apart" exudes the feeling of not being of its time. In this new production that quality is partly due to Ayckbourn and partly a result of the performances.
The story takes place over 12 years, starting in November 1967, in a British middle class suburb, yet no hint of the tumultuous '60s or '70s exists. These characters have gardens and tennis courts, drink cocktails, watch fireworks, and discuss petty troubles with their marriages, children, and work lives. For the most part, they dress and act as if the 1950s never ended. Most are well-educated; their humor is dry and self-effacing.
But right from the start, some small emotional fissures become visible. Hugh, a vicar (Michael J. Connolly), and his high-strung wife, Louise (Alison Blair), have moved in next door to the vivacious, tennis-playing couple Richard (Michael Murray) and Anthea (Aleksandra Stattin). Their new neighbors include Richard's partner Sven (James Liebman) and his wife, Olive (Stephanie Seward), and Brian (Sebastian Montoya) and his very young girlfriends (each played by Anisa Dëma). All the characters harbor envy of one kind or another. Both Brian and Hugh have a crush on Anthea. The heavyset Olive is resentful of Anthea's slight figure. But the most prevailing jealousy is of Richard and Anthea's seemingly happy life.
Director Peter Jensen creates an enjoyable pace but fails to ignite any real fireworks. Part of the reason seems to be the difficulty the actors have with the tone of the piece. They never completely settle on the proper approach to who these people are. Liebman, Blair, and Dëma portray their characters too broadly to make them sympathetic, while Murray, Stattin, and Montoya seem constrained and uncertain—particularly by their accents. Seward is the show's highlight, making the most of the play's funniest lines, and Connolly is terrific as the anxious vicar.
Matt Brogan's set is functional yet evocative, while Eric Cope does a nice job creating mood with his tasteful use of lighting.
Presented by and at T. Schreiber Studio, 151 W. 26th St., 7th floor, NYC. May 28–June 27. Thu.–Sat., 8 p.m.; Sun, 3 p.m. (212) 352-3101, (866) 811-4111, www.theatermania.com, or www.tschreiber.org.