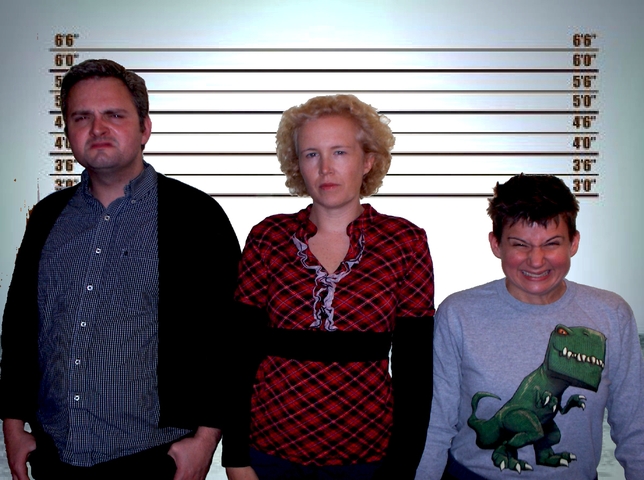 There's a fine line between raunchy sick humor and just plain bad taste. You would think a musical about murdered toddler beauty queen JonBenet Ramsey would cross that line. But MediumFace Productions' riotously ribald "JonBenet Ramsey: Murder Mystery Theater!!!," presented as part of the Frigid Festival, manages to stay on the funny side, only occasionally straying into gross-out territory.
On Christmas Day 1996, 6-year-old JonBenet was reported missing. An oddly worded ransom note was found demanding cash for her safe return. The next day her body was discovered in the basement of the Ramseys' Boulder, Colo., home. The police initially suspected the family, but there was not enough evidence for an arrest of the pageant winner's mother, father, or 9-year-old brother. The case had all the ingredients of a tabloid sensation: bizarre adult-looking child on the pageant circuit, wealthy parents, and no killer to be found.
The four-member cast mercilessly satirizes the media storm and the outlandish caricatures that the Ramseys became in the public's mind. Mom is a raving alcoholic and former beauty queen, insanely jealous of her little girl's winning pageant streak. Dad is a child molester who sees nothing wrong with licking his fingers when talking about his beloved daughter. Burke is a grab bag of neuroses, flirting with both parents and donning a blond wig to resemble his sister. ("Gender is fluid, Dad!," Burke, who is played by a female, screams.) This dysfunctional clan attempts to find the real murderer among them—or maybe it was Santa Claus—as they knock back drinks, hide evidence, and sing songs accompanied by Dad on the guitar he received for Christmas. Observing the madness is an ambitious local television reporter with an incongruous British accent determined to crack the case and get her own network spot.
There are no writing or directing credits in the program, so presumably the piece is a collaborative effort. The running time is wisely kept to a fast 50 minutes, which is about as much as the slight material can hold. The gags are razor-sharp and outrageous. When Burke begs his parents not to cancel their Disney cruise vacation, he pleads, "We can still take JonBenet. She's a carry-on now." Mary Crosbie's Mom, Bob McSmith's Dad, and Tobly McSmith's Burke maintain a solid though crazy believability. These Ramseys may be nuts, but they are consistent in their insanity. April Kidwell goes a bit over the top as the driven newswoman, particularly in an unnecessary scatological scene in which her character swims in the Ramsey septic tank in search of clues, but she redeems herself in a clever parody of David Bowie's "Major Tom."
Presented by MediumFace Productions as a part of the Frigid Festival at the Kraine Theater, 85 E. Fourth St., NYC. Feb. 20–March 3. (212) 868-444, www.smarttix.com, or www.frigidnewyork.info.
Critic's Score: B+