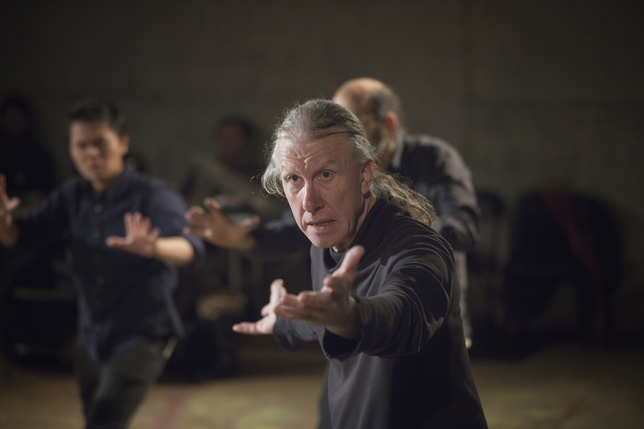 At the start of the hugely engaging "Here We Are," the final production of the Living Theatre at its current home, I am greeted by a performer named Jay Dobkin, a member of the influential avant-garde political theater company that Julian Beck and Judith Malina founded in 1947. Dobkin helps me put away my coat and bag: "We'll be exploring the whole of human history tonight; we don't want your stuff to be toppled by the Roman Army," he jokes. He then spends the entire 75 minutes of "Here We Are" guiding me through what feels like an arts-and-crafts workshop at a summer camp. He traces my feet onto pieces of plastic and then helps me make sandals out of it; he hands me a blindfold to put on briefly while the cast chants, "We are the prisoners"; he gives me a "ballot" and instructs me to put it in a ballot box and tell everybody what I would like most to see happen in the world; he encourages me to dance with some of the other performers. In-between his ministrations to me, he joins the rest of the ensemble, backed by a live band, to chant, sing, and dance while waving banners; portray citizens of France, Spain, and the Ukraine; and present a gleeful finale involving freeform dancing and a song whose lyric consists of the repeated refrain "the beautiful nonviolent anarchist revolution."
Dobkin, who describes himself as an anarchist, a pacifist, and an atheist, has been a member of the Living Theatre since 1997. Most of the rest of the company in "Here We Are" looks as if they were in kindergarten then. Young, attractive, and welcoming, each is assigned to a different member of the audience, their aim to make us feel connected. This is not a theater that establishes its experimental credentials by confrontation.
Some would find it easy to spoof what the Living Theater does. Dressed all in black, moving gracefully while chanting about revolution, the 15 lithe performers seem the living embodiment of those long-ago Jules Feiffer cartoons in the Village Voice about bohemian New Yorkers titled "A Dance to…" But, using the language of the avant-garde, "Here We Are" has some substantive things to say. Its writer and director, the 86-year-old Malina—who sits unobtrusively in the corner during the performance—presents an argument that the next step in civilization is self-rule by what she calls "anarchist consensus." We are presented with scenes from three anarchist collectives in history—the Paris Commune in 1871, the Ukraine in 1918, and Barcelona in 1936—that she says functioned well, until the authorities toppled them.
Forced from the theater it has occupied for six years (and still searching for someplace more affordable), the Living Theatre, rightly labeled legendary but still fresh, is worth catching even if you find its values or approach foreign. Would you decline the chance to see Sarah Bernhardt just because you didn't speak French?
Presented by and at the Living Theatre, 21 Clinton St., NYC. Jan. 23–Feb. 23 (212) 352-3101, (866) 811-4111, www.theatermania.com, or www.livingtheatre.org.
Critic's Score: A