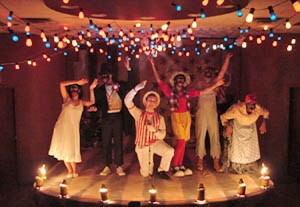 American popular culture has been hugely influenced by the black-face minstrel shows of the latter 1800s and early 1900s, even if few people are aware of that fact today. That's the smart idea at the core of Subjective Theatre Company's vest-pocket political musical, "Jump Jim Crow: How to Produce Your Own Minstrel Show." Book writer Jesse Cameron Alick can write a sharp line, composer-lyricist Justin Levine can turn a neat rhyme and a caustic tune, and director-conceiver Donya K. Washington, with the aid of choreographer Steven Gillenwater, stages confidently and confrontationally. Still, right now this is a show in search of the right shape. If the creators ever find it, what snaps into focus could be genuinely unsettling.
The basic setup is that of a troupe of players, the Ethiopian Serenaders, who are here to demonstrate for "your family, your lodge, or your theater" how to survive the recession by making money producing a minstrel show. They are lead by two "barkers," Edwin (Haas Regen) and Emmett (Rusty Buehler), Caucasians who function more or less as the Interlocutor (Edwin), who's in charge, and either an End Man or perhaps just a First Minstrel. The basic character stereotypes are trotted out: Coon (Kimberlee Walker), Tom (Brandon Jones), Mammy (Lynneisha Ray), Buck (Eddie Wardel), and Mulatto (Jill Knox), all played by African-Americans in appropriately lurid black-face makeup. The fourth wall lies in rubble. Audience members are asked loaded questions about race (when I declined to answer one, a delightfully nasty prewritten musical retort came from the company). Audience plants argue with Edwin and Emmett, raising a variety of issues. It all resolves in a coup de théâtre that isn't quite pulled off yet but is a fine idea nonetheless.
The 70-minute show is most troubled up top. Edwin and Emmett act as if it should be obvious why a minstrel show would be a moneymaker, but that assumption is antithetical in a musical that is simultaneously telling us how much we don't know about minstrel shows. A clearer way in to the central idea is needed. The show works best when playing a game during which contemporary political and artistic figures are identified by the audience as one of the five above-mentioned stereotypes. It all culminates in Obama, of course, and drives home both how much the issue of race is still with us and how much we have suppressed ourselves on the topic: Americans have a genius for simply forgetting uncomfortable facts.
Regen and Buehler make a nicely contrasting set of barkers, with Regen particularly insidious whenever Edwin professes his great love for black people. The company members nail their stereotypes, and everyone sings and dances confidently. The bare-bones production is inventive: I loved the coffee-can footlights and the sprightly follow spot created through the ingenious use of an overhead projector.
Throughout the show are sprinkled original minstrel tunes such as "Oh, Susannah," "Swanee River," "Dixie," and the title song. "Jump Jim Crow" is never more destabilizing than in its infectious presentation of these tuneful numbers as the company enthusiastically belts out the original, long-expunged racist lyrics. We're simultaneously entertained and horrified. The rest of the show needs to do that more often. It could also use some tambourines.
Here's hoping this scrappy young company, "founded on the principles that art is not a commodity, culture should be without class structures, art is without boundaries, and that theater should always be available to everyone," keeps working on this one. In the meantime, tickets are free, and you could do much worse and pay for the privilege.
Presented by Subjective Theatre Company at the Ukrainian Center Ballroom, 136 Second Ave., 2nd floor, NYC. Dec. 12–20. Tue.–Sun., 8 p.m.; Sat. and Sun., 3 p.m. Tickets are free, though donations are accepted. Reserve at reservations@subjectivetheatre.org.