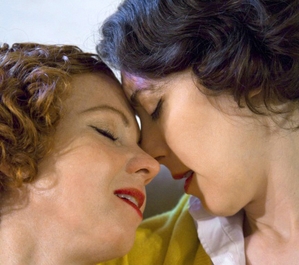 Actor-playwright Michelle Ramoni's "June and Nancy" is her first full-length play, and I'm afraid it shows. This 80-minute dramatization of the love affair between a closeted lesbian and a married woman in 1950s Manhattan, though not uninteresting, is definitely ungainly.
Ramoni's exposition is too obvious, and she tells her tale in 17 short scenes—a structure more suited to film—with each having a simple objective and a neat button. Director Kate Holland compounds the problem with busy set changes that go on far too long. Ramoni does pretty well with the two main characters, but Marty, June's husband, and Jerry, her gay co-worker and longtime friend, are little more than devices to further the story, which doesn't climax so much as simply stop.
Ramoni and Gabrielle Maisels are convincing in their growing attraction and subsequent love, though Ramoni turns on the tears a bit too often. Jeffrey Coyne is a properly blustery Marty, and Peter Daniel Straus enlivens Jerry with comic invention.
Presented by Stage Left Studio as part of the New York International Fringe Festival at the Kraine Theater,85 E. Fourth St., NYC. Aug. 17–26. Remaining performances: Fri., Aug. 24, 3:15 p.m.; Sun., Aug. 26, 4:45 p.m. (866) 468-7619 or www.fringenyc.org.
Critic's score: C-