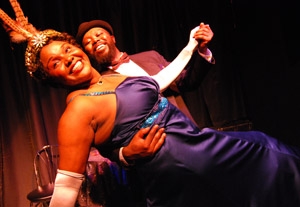 If getting love and respect is hard, keeping them is even harder. In Juneteenth Legacy Theatre's dynamic "Juneteenth Blues Cabaret," Blues Queen (Jannie Jones, working the hell out of this title) and Cool Dude (Jamil A.C. Mangan) take us through the successes, misfortunes, and song hits of Bessie Smith, Ethel Waters, Billie Holiday, Dinah Washington, and Lena Horne, divas who struggled with their men while simultaneously earning their street and stage cred. And while Lorna Littleway's book is chock full of poignant facts and a narrative thread that gives rise to each diva that follows, it's Jones' magnetic performance and Mangan's charm that make this production a must-see.
Turning the intimate space of the Nuyorican Poets Cafe into a saloon, where Ivan Thomas jams on the piano, the evening is just as much a feast for your eyes as it is for your ears. Part narrative, part songfest, and part interactive presentation, the show features Mangan as the object of Jones' love, scorn, and anger, held in thrall by her songbird skills. Executing Robin Hemmings' versatile choreography with just as much ease as she delivers the songs, Jones shows off her acting and vocal range with so much gusto that you'll wish the production ran longer than its 70 minutes.
With just a few accessory changes, such as white gloves to black gloves and a feather headdress to a flower, Jones morphs from one leading lady to the next, invoking a bit of their performance styles but never losing her individuality. And though the segues could use some stronger cues, Jones never misses a beat as she goes from flirty numbers like Bessie's "Fine Fat Daddy" to Billie Holiday's hilariously drunken "Baby, Won't You Please Come Home." Sensational in numbers with Mangan as well as alone, Jones maximizes every opportunity to show off her comedic timing, dramatic poise, and unconquerable stage presence.
Bessie, Ethel, Billie, Dinah, and most recently Lena may have all passed on, but in "Juneteenth Blues Cabaret," they are vibrant and doing quite well for themselves.

Presented by Juneteenth Legacy Theatre at the Nuyorican Poets Cafe, 236 E. Third St., NYC. Nov. 4–20. Thu.–Sat, 7 p.m. (Sat., Nov. 20, performance is at 3 p.m.) (212) 780-9836 or www.nuyorican.org. Casting by Lawrence Evans.