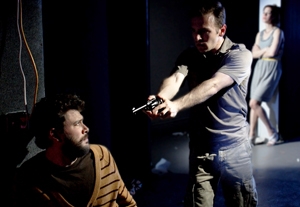 Boredom equals death, quite literally, in the Flea's world premiere of Zack Russell's "Just Cause." And who's more bored than directionless 20-somethings whose parents back their pathetic lives as they follow their so-called passions? However, this play seems almost as confused as the millennials who inhabit it.
Six aimless young people are manipulated into making terrorist threats by a security software company. These threats will create more demand for the company's programs, thereby boosting its IPO. I never quite understood why these pitiful young people buy into the terrorist plot. Sure, their lives seem pointless. Their careers—college dropout turned Best Buy employee, unemployed Latin American studies graduate, waitress-actress, personal assistant, struggling musician, and young Army vet—are less than glamorous. "Freedom comes to those who love it" is the mantra of the cell—as its conniving leader, August, calls the group—but how does a bomb threat at the Empire State Building equal freedom?
To be fair, the extremes the play presents can be seen as the radical consequences that Generation Next might face as a result of its unfinanced pursuits and technology overload. The double meaning of the title is kind of cute too. These young people do things "just 'cause," but at the same time they are looking to commit their lives to a just cause. However, the cause in this case does not seem plausible, and the notion that Generation Y is wasting its existence on unfulfilled passions is hackneyed.
There are some strong performances, particularly by Alex Herrald as Jack and Katherine Folk-Sullivan as Anna. As minor characters Coco the drug addict and the schizophrenic Sister, Allison Buck and Crystal Arnette do a convincing job, but the point of their roles seems somewhat vague, except to act as a jumping-off point for the others. The charades of these young people evolve from real games to a kill-or-be-killed scenario in which bullets are distributed like candy. Life may be a battlefield, but I don't want to live in one where the bullets are always real.
Presented by and at the Flea Theater, 41 White St., NYC. May 19–June 6. Schedule varies. (212) 352-3101 or www.theflea.org.