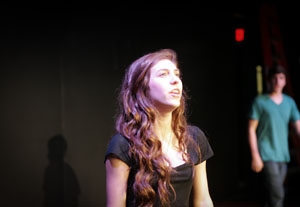 In "Kissless," another musical about high school, one member of the huge cast is wearing braces on her teeth that extend into a kind of mask on her face. Nice touch, one might think; this is like Artie using the wheelchair in "Glee." But then you notice about half a dozen other performers also wearing braces. This is not a touch; this is who they are. How refreshing that real teenagers are playing teenagers. But how disappointing that the teenagers they are playing are so fake—the kind of high school students you would find in a bad movie comedy rather than in an actual high school. "Kissless" seems clueless.
It is not, however, worthless. This first musical by Chance McClain, who wrote the book, lyrics, and music, includes several strong original melodies in a variety of styles. Its 27-member cast, homegrown at the Acting Academy of the Houston Family Arts Center and transferred intact, features a number of performers whose voices will surely carry them back to New York in a better vehicle.
Forest Glen High School is divided into jocks, nerds, goths, and rednecks—hostile camps dressed exactly as you would expect. As the school year ends, jock Derek (Tyler Galindo) finds that his parents have invited a goth named Summer (Teresa Zimmermann) to stay with them for the summer. While at first hostile to one another, Derek and Summer eventually bond while playing a video game called Soul Crusher. Derek's father (Cameron Worthen) discovers their growing affection and breaks them up, leading to tension, payback, and regret after school begins again in Act 2.
This thin, predictable, and rarely believable plot is filled out with musical numbers enlivened by Ellen Dyer's often-inventive choreography; she works in sit-ups and pushups for the athletes, comical zombie moves for the goths, Texas two-step for the rednecks. But there is also scene after scene of failed slapstick and poop jokes, then a "Carrie"-like scene full of poop. The show ends with an ineptly tacked-on tragedy and a scene of mourning and reconciliation that's straight out of a summer-camp production of "West Side Story."
There are worse shows than "West Side Story" to look to for inspiration, and "Kissless" seems to rely on many of them. They should have taken a lesson instead from a play like "Facebook Me," presented at the most recent New York International Fringe Festival, in which teenagers wrote and performed stories based on their own lives.
Presented by Chance Productions as part of the New York Musical Theatre Festival at the Theatre at St. Clement's, 423 W. 46th St., NYC. Sept. 29–Oct. 8. Remaining performances: Sun., Oct 2, 7 p.m.; Mon., Oct. 3, 1 p.m.; Tue., Oct. 4, 9 p.m.; Sat., Oct. 8, 5 p.m. (212) 352-3101, (866) 811-4111, www.theatermania.com, or www.nymf.org. Casting by Houston Family Arts Center Actors Academy.