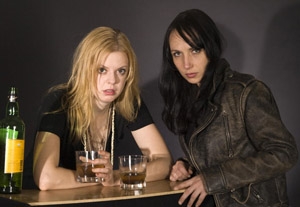 Marvel Comics meets "Laverne & Shirley" in Jonathan Wallace's "Layla and Harley Together Again." There's a lot of cleverness afoot, but the mash-up is rarely felicitous.
Layla (Elisa Abatsis) is a sweetly sexy blond Brooklyn bartender. She's also a superhero, or at least she has a superhero angel-wing tattoo on her back, which kills anyone who views it. Harley (Tatiana Gomberg) is her best gal pal, a motorcycle jacket–wearing toughie who happens to be dead. The play begins on one eventful night in Layla's bar, when Harley returns from the afterlife for a visit. Others on hand include the Devil (Andrew Rothkin), a fey menace who's come to collect some souls; Sanka (Elizabeth Bove), Harley's abandoned daughter, who's returned from the future to hook up as Layla's lover; and Sloopmeyer (Don Pflaster), a bounty hunter from the future who's come to collect Sanka. Also around are two of Layla's rejected suitors, Mama's Boy (Aaron David Kapner) and Jimmy Dockerty (V. Orion Delwaterman). Have I lost you yet? Well, the show's program devotes almost a page to spell out an even more convoluted backstory. Anyway, the night ends with a barroom brawl, and Layla and Sanka skip out for further adventures, which eventually take them to Monterey, Calif.
The script for this miniature picaresque tale has some occasionally funny lines and scattered references to such figures as Alfred Hitchcock and Jean-Paul Sartre. But it often seems that the playwright is showing off rather than creating real people or trying to tell a credible story. Completing the cast are Christopher Boerger, as another of Layla's would-be boyfriends, and the show's director, Edward Matthews, who gives the most grounded performance, as a cancer patient rejecting chemo. (Yes, I'm still talking about the same play.) Still, the entire company labors diligently to turn Wallace's busy stew into an edible dish. Some medals for valor are due those actors who participate in that barroom dustup staged in the cramped playing space. And the show does achieve some genuine poignancy in its final scene, in which Layla and Harley reunite to quietly celebrate their friendship. But it's a small reward for the 70 minutes or so that precede it.
Presented by Howling Moon Cab Company as part of the Midtown International Theatre Festival at the Abingdon Theatre Arts Complex's Dorothy Strelsin Theatre, 312 W. 36th St., NYC. July 14–31. Remaining performances: Sun., July 18, 2 p.m.; Wed., July 21, 8 p.m.; Thu., July 22, 6 p.m.; Fri., July 30, 6 p.m.; Sat., July 31, 8:30 p.m. (212) 352-3101, (866) 811-4111, www.theatermania.com, or www.midtownfestival.org.