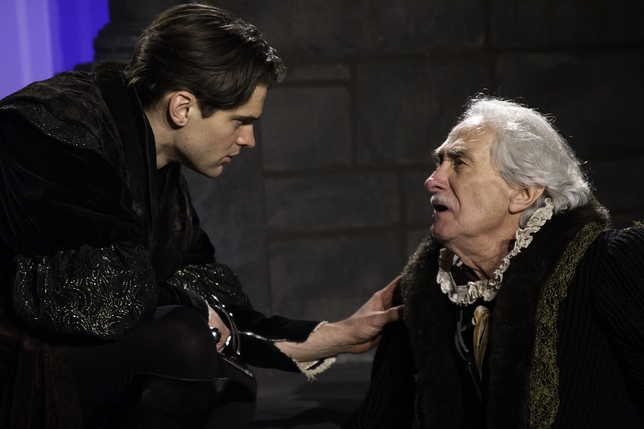 Pierre Corneille caused a commotion with "Le Cid" in 1637. An audience-pleasing commercial success, the play was nonetheless rejected by members of the French literary establishment for failing to observe classical "unities" of time, place, and action. These days we're not much concerned with such rules, but we do expect a sort of unity of style within a dramatic production. That's something sorely missing in Peter Dobbins' new production, which uses Richard Wilbur's accomplished 2008 verse translation.
Corneille's play has tragic dimensions, although it ends more or less happily. Set in 11th-century Spain, it tells of a pair of star-crossed lovers, Don Rodrigue (Jeff Kline) and Chimène (Meaghan Bloom Fluitt). Monarch Don Fernand (Spencer Aste) has given an appointment to Don Rodrigue's father, Don Diègue (George Taylor), an honor that Chimème's father, the Count (Brian J. Coffey), bitterly envies. When the Count insults Don Diègue, Don Rodrigue is called on to uphold his father's honor. He slays the Count, which puts an understandable damper on his courtship of Chimène. An emotional crisis ensues for both lovers: an agonizing tug-of-war between love and duty.
Some actors in this "Le Cid" have the skill to infuse the grand theatrical passions of the antique story with recognizable human emotions. Kline has a firm grasp of who Don Rodrigue is. His eyes have fire, and his voice has force. He makes the character's inner struggle palpable. In a fine scene shortly before intermission, Kline is paired with the immensely talented and nuanced Taylor, and in those moments you get a sense of what this production might have been.
Unfortunately, Kline doesn't have an equal in Fluitt, who flubs this rare opportunity to interpret a rich and passionate role in a seldom-produced classic. Where is Chimène's passion? In the scene directly following the Count's death, we see a character thrown into utter anguish. The man she loves has slain her father! With Fluitt, it's just another scene. Her Chimène is perturbed, miffed. She should be devastated. Exasperatingly bland throughout, Fluitt gives Kline and the others little if anything to play against.
Other cast members have difficulties as well. Cheri Paige Fogleman, as Chimène's attendant Elvire, speaks with exaggerated stresses (and in her first scene interpolates awkward, unconvincing giggles), perhaps in an attempt to avoid the singsong cadences of rhymed couplets. She comes off as mannered and calculated. Then there's Jessica Zinder, as the Infanta of Castile, secretly in love with Don Rodrigue. Why did Dobbins decide to use the Infanta's scenes for comic relief? In a sequence in which the Infanta reveals her passion, Zinder comes off like a campy lust-riddled character from "Sex and the City," moaning as though anticipating orgasm. The scene cheapens the proceedings.
During the curtain call a raucous rock track suddenly blares; it's completely at odds with the play's solemn—and rather effectively staged—conclusion. The mood-shattering sound cue is emblematic of the production's overall erratic state.
Presented by the Storm Theatre and Blackfriars Repertory Theatre at the Theatre of the Church of Notre Dame, 405 W. 114th St., NYC. Jan. 12–Feb. 9. (212) 868-4444 or www.smarttix.com.
Critic's Score: C-