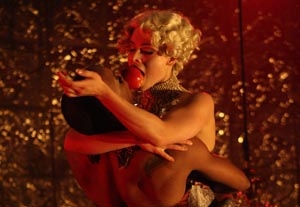 Writer-director-choreographer Austin McCormick likes his opulence. With
Le Serpent Rouge
, he delivers a wildly flamboyant take on the Biblical story of Adam and Eve. Presiding over the action is a voluptuous Ringmistress (Gioia Marchese) who looks like she might have stepped out of Baz Luhrmann's
Moulin Rouge
. Also featured is a scantily, but gorgeously clad (excellent costume design from Olivera Gajic) drag queen (Davon Rainey) who sports a platinum blonde coif worthy of Norma Shearer's Marie Antoinette.
McCormick's inspirations for
Serpent
, are not limited to the silver screen. Writers as diverse as Thomas Mann and Charles Bukowski are referenced in the piece which begins with the carnal lust that Adam (John Beasant III) has for Lillith (Yeva Glover) and moves into the creation of his soul mate Eve (Laura Careless). Before Eve's fateful bite of the apple,
Serpent
imagines that she and Adam are thrown into a purgatory of sorts where they experience "what God has been keeping from" them. Then the piece becomes a series of dance sequences with each of the seven deadly sins brought to life.
Though often sensual and sometimes brutal, McCormick's choreography—performed with intensity by the company—can become visually repetitive despite the broad array of accompanying music. Perhaps McCormick intends for similarities in the dances to be leitmotifs that underscore the perpetuity of the vices, but unfortunately the effect can be a bit wearying. Ultimately,
Serpent
feels a bit like a medieval mystery play that's been crossed with a juicy soap opera.
Nevertheless, there are moments throughout that startle or dazzle (often in tandem with Gina Scherr's lighting design), and as McCormick wrestles with his narrative, visual and choreographic extravagances, he remains an artist to watch.
Presented by Company XIVat 303 Bond Street, Brooklyn, NY
C.
May 15
–
June 6. Thu
.–
Sat
.,
8 p.m
.
(
212
)
868-4444 or www.SmartTix.com
.