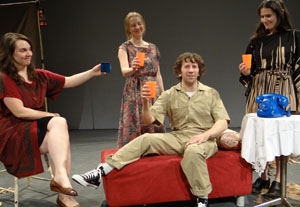 Few things are as disappointing for theatergoers as watching a promising premise wilt under a sloppy production, which is exactly what is happening with "Leakey's Ladies" at Dixon Place. A triptych of plays about primatologists Jane Goodall (written by Erin Courtney), Dian Fossey (courtesy of Rachel Hoeffel), and Biruté Galdikas (from Crystal Skillman), almost every aspect of the evening fails.
The problems begin early, when we first meet the trio of titular women and the man who sent them into the field and launched their fame: Louis Leakey. But although the play is set primarily in the 1970s, every actor looks to be in his or her 20s. For the record, Leakey was 70 when he sent Biruté to Borneo, which actor Scott Weber doesn't even try to convey.
There is also the problem of the multimedia aspects of the work. Puppet and mask designer David Valentine has found no consistency in the way the various primates are portrayed, sometimes utilizing gorgeous puppets, sometimes putting an actor in a mask, and sometimes simply sitting an actor in a fur shawl with her back to the audience. James Walton's video projections are occasionally used but add nothing to the experience—certainly not any hint of how much time has passed.
Director and designer Gretchen Van Lente has taken what may very well be three interesting plays about three fascinating women and buried them beneath busy work. She shows audiences that a scene is set in London by having her large cast of extras walk quickly back and forth across the stage, sometimes checking their watches with a pained expression for that extra hint that they're in a rush. She also hasn't managed to elicit any subtlety from her three leads, letting them settle on one aspect of their characters. Meghan Williams' Goodall is a plucky blond go-getter with a Mid-Atlantic accent, Tatiana Pavela's Fossey is angrily obsessed with protecting the primates and to hell with science, and Amy Carrigan's Galdikas is a hippie with a camera, all of which do a grave disservice to these three remarkable women and their stories.
Sometimes a play is more interesting on paper than in actuality. Consider "Leakey's Ladies" exhibit A.
Presented by Drama of Works and Dixon Place at Dixon Place, 161A Chrystie St., NYC. Jan. 13–Feb. 4. Fri. and Sat., 7:30 p.m. (212) 352-3101, (866) 811-4111, www.theatermania.com, or www.dixonplace.org.