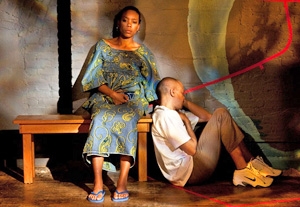 Writer-director Anton Dudley gives us a small gem with a great big heart in "Letters to the End of the World," At Hand Theatre Company's current production in the tiny Studio Theatre on Theatre Row. Original and surprising, this intelligent drama about young people searching for their place in the world is an unmitigated, invigorating joy.
In his early 20s, Todd Paulson, the sensitive, Manhattan-dwelling son of wealthy but rather absent parents, is in a relationship with the blue-collar Bryan, who fixes cars in Elizabeth, N.J. As the play begins, Todd is writing a fan letter to Agnatha Miller, who has skipped grad school and instead gone to Africa to make a difference, teaching in a tiny village in Zambia and also working to combat the AIDS epidemic. Todd has read Agnatha's account of her work in an article in Vogue. They strike up an epistolary friendship, and soon Bryan is resenting it. Though the young men have been together for two years, regular-guy Bryan remains intimidated by Todd's wealth, social class, and intelligence. Unlike Todd, he can't bring himself to say the words "I love you."
In Africa, we meet the reserved, focused Ms. Mwando, who runs the school where Agnatha teaches and is highly skeptical of her, and the ebullient Emmanuel, who works there and is in love with his boss. Todd eventually goes to join Agnatha and find his destiny, sending Bryan into a loveless affair with Tess, a girl he picked up in a bar one night after a fight with Todd. In a coincidence that could damage but doesn't, because Dudley never uses it to gerrymander the plot (none of the characters is aware of it), Tess is Agnatha's estranged twin. Lovesick Bryan pines for Todd, who becomes more and more confused about what he's doing and why. So does Agnatha, who increasingly resents Ms. Mwando's hostility toward her.
Dudley directs as assuredly as he writes and has assembled a superb cast. Charles Socarides makes for a vulnerable, touching Todd, simultaneously showing us the character's boyish appeal while fully embracing his unattractive qualities, such as relentless overintellectualizing and emotional navel-gazing. Peter O'Connor's Bryan is sweet, sexy, and scared. His Act 2 transcontinental telephone call with Todd is both funny and heartbreaking. Francesca Choy-Kee compellingly suggests the emotional depths being kept rigidly in control by Ms. Mwando. Her restrained reaction to a sentimental diatribe against her by Agnatha is particularly powerful. Tyrone Mitchell Henderson emphasizes Emmanuel's unusual combination of maturity and playfulness, which helps him function as resident peacemaker. He invests Emmanuel's climactic speech to Agnatha about what drives Ms. Mwando with great strength. Shannon Burkett is a wonder at distinguishing her twin roles, physically and vocally, highlighting Agnatha's girlish enthusiasm and Tess' defensive cynicism. Burkett's work when Tess role-plays her twin to Bryan is subtle and stunning.
The physical production is of necessity extremely spare, but Eli Kaplan-Wildmann's simple wall graphic and single bench work well, as do Nicole Wee's appropriate costumes. Ryan Bauer's lighting is notable. With only a few instruments at his disposal, he is somehow able to command the red glow of an African sunset; the bright, warm yellow of a Zambian day; and also the harder, whiter light of a Manhattan apartment.
What makes "Letters to the End of the World" so refreshing is Dudley's ability to write with thoughtfulness and complexity about eternal concerns. There are no heroes or villains and not a trace of sentimentality. Compassionate yet clear-eyed, he allows his characters independent life as they search for meaning and connection, and the result is thoroughly satisfying and movingly human. 
Presented by At Hand Theatre Company at the Studio Theatre, 410 W. 42nd St., NYC. May 2–16. Thu.–Sat., 8 p.m.; Sun., 7 p.m. (212) 279-4200 or www.ticketcentral.com.