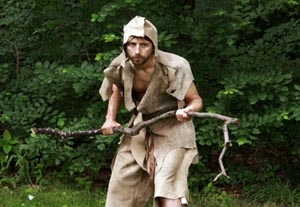 Imagine Les Stroud's
Survivorman
repurposed for the
Dora the Explorer
crowd and you have a clear picture of
Life on a Desert Island
, Theatre-Playground's open-air adaptation of
Robinson Crusoe
, in which Crusoe contends with a bigger peril than starvation or exile: the stunted attention spans of a dozen youngsters in a city park full of loud recycling trucks, errant wanderers, and incalculable distraction.
Played with winning energy by Jason Vance (Samuel Kirk alternates with him in the role), author Daniel Defoe's desert-island hero washes up in several New York City parks this summer, ready to teach kids important lessons about resourcefulness and environmental preservation for free. Along the way, he asks advice from his audience or makes funny animal sounds, whatever it takes to make the show's 60 minutes pass at a swift, engaging pace.
For a while, the interactive outdoor concept works well. Kids offered entertaining suggestions for where Crusoe could sleep on his island—"How about a nice cave?" one boy suggested, without elaborating on what distinguishes a "nice" cave from the rest—and happily received whatever island-made gifts Crusoe presented them. But the lack of a real narrative—Friday, the cannibals, and the eventual voyage home have been discarded in favor of the instructional show-and-tell—and the constant flow of bystanders being shooed from the playing area by production staff eventually dilute Crusoe's often amusing presentation. One sequence in which he constructs an impressive hut out of found materials epitomizes the imbalance of text and action perfectly: Crusoe's story about leaving England becomes palpably secondary to his handy physical activity.
Not that it mattered to the target demographic. The kids gleefully rushed on stage to play with Crusoe's toys when invited at the end of the performance.
Presented by Theatre-Playgroundat Riverside Park, West 82nd Street and Riverside Drive, NYC
;
Central Park, West 68th Street and Central Park West, NYC
;
and Prospect Park, Fifth Street, next to Litchfield Villa, Brooklyn, N.Y.
June 27
–
Aug. 29. Schedule varies
.
(
917
)
620-7024 or www.theatreplayground.com
.