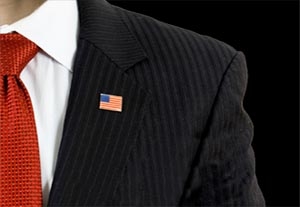 A watered-down version of "The Little Dog Laughed," "Live Broadcast" suffers from an overstuffed script and a cavernous stage that swallows the preposterous proceedings.
Agent Jane Forge (Amanda Brooke Lerner, unable to project) tries to prevent rising movie star Tom Powers (playwright John William Schiffbauer) from appearing on the conservative cable news show hosted by Tom's old friend Jack Tatum (Kyle Knauf), where Tom will likely embarrass himself by espousing his Republican views opposite Vermont congresswoman Madeline Bruce (Andrea Day).
After an act of fragmented, irritating banter that director Melissa Attebery wrongly believes will be mistaken as funny if it's delivered fast enough, the wholly implausible debate finally happens, written by Schiffbauer as if he has never seen two people with opposing views arguing on CNN or Fox News. There's a play to be written about the ways in which both politicians and celebrities are unable to be fallible figures. "Live Broadcast" just isn't it.
Presented by Erica Ruff as part of the New York International Fringe Festivalat the New School for Drama Theater, 151 Bank St
.,
NYC
.
Aug. 15
–
23. Remaining performances
:
Mon
.,
Aug. 17, 8:45 p.m
.;
Thu
.,
Aug. 20, 3 p.m
.;
Fri
.,
Aug. 21, 8:45 p.m
.;
Sun
.,
Aug 23, noon
.(
866
)
468-7619 or www.theatermania.com
.