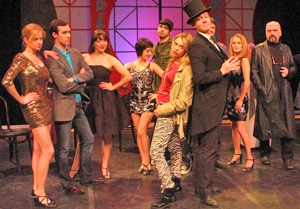 It's all Don Murray's fault. In 1973, that fine actor starred in "Smith," a short-lived tuner about a man trapped inside a musical comedy. Though produced at Off-Broadway's Eden Theatre, it was somehow considered a Broadway show. Its creative team included a co-author of "Once Upon a Mattress" and the director of "Dames at Sea." Murray's name drew the notice of this suburban Cleveland teenager, and I've been intrigued by the show ever since. So when Theater for the New City announced it was producing something called "Living in a Musical," with a premise that sounded similar to that of "Smith," I bit. And nearly 24 hours later, boy, do my teeth still hurt.
This benighted production proves to be a work of gob-smacking incompetence. Tom Attea's absurd (and not as in "theater of the") book and lyrics attempt to tell the story of Frank, an aging juvenile who still toils as a waiter while waiting (oh, yes, Attea goes there) for his big break as a musical theater performer. Though his résumé seems to be credit-free, Frank is somehow up for the Fred Astaire role in what's termed a "Broadway revival" of Irving Berlin's "Top Hat"—an impossibility, of course, as "Top Hat" is a film and has never been produced as a stage production on Broadway, so it can hardly be revived there. Still waiting, Frank meets Angel, the Juilliard-trained heavy-metal rocker who performs with Cal, the Juilliard-trained boyfriend who physically abuses her. Frank rescues Angel and tries to turn her into Ginger Rogers. When square Frank offers Angel a Coke, she thinks he means drugs. College graduate Cal, who doesn't know what "callow" means, tries to shoot himself in front of Frank and Angel after she rejects him. Have you had enough yet?
Arthur Abrams' meandering music is as lame as Attea's writing and played by a five-piece band that often sounds as if it's using Harold Hill's "think system." The authors do themselves no favors by having Frank audition for "Top Hat" with the actual Irving Berlin title song (which, strangely, is prerecorded rather than played by the band). Berlin's excellence just throws their shortcomings into greater relief. I won't name any of the 15 mostly nonunion performers. Responsible professionals, they commit fully to this folderol, and the excruciating result is not their fault.
Joe Cino, proprietor of the legendary Caffe Cino, the cradle of downtown theater, was famous for choosing plays without reading them. Instead, he just met with the authors and sized them up. Nevertheless, his track record is to be envied. Crystal Field, longtime executive director of Theater for the New City, has apparently produced four previous musicals by this team. One wonders if she's ever met them.
Presented by and at Theater for the New City, 155 First Ave., NYC. March 6–28. Thu.–Sat., 8 p.m.; Sun., 3 p.m. (212) 254-1109 or www.theaterforthenewcity.net.