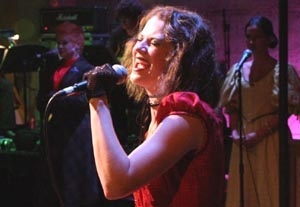 When "Lizzie Borden took an axe," as the legendary limerick goes, it probably wasn't the heavy-metal kind. Nonetheless, Took an Axe Productions has repurposed the 19th century's could-be killer as a hard-rock goddess in its brazen, rambunctious production of "Lizzie Borden."
Though actually acquitted of the brutal murder of her father and stepmother, Lizzie lives on as sort of pop icon of derangement. Steven Cheslik-DeMeyer, Tim Maner, and Alan Stevens Hewitt's rock musical works the pop angle hard—perhaps too hard. "Lizzie" is sharply staged, no doubt due to its decades of development, but the musical has picked up some other baggage along the way. Though more-experimental versions premiered in the 1990s (which, in fairness, I did not see), this version seems content to hop on the "Spring Awakening" bandwagon. Playing fast and loose with history and anachronism, Cheslik-DeMeyer and Hewitt's angsty, decidedly modern power ballads indeed provide an agreeable if familiar conduit into the fractured Borden family. Maner's practiced direction specifically benefits "The Soul of the White Bird," a love duet between Lizzie (Jenny Fellner) and her more-than-a-friend Alice (Marie-France Arcilla), during which Maner expertly uses Zoë Woodworth's striking projections.
Fellner shoulders the role of Lizzie with a roguish delight and a small stature that somehow makes her more threatening. Arcilla and Lisa Birnbaum (as Lizzie's sister Emma) are each featured well in solo numbers and show a formidable range of romance and neurosis. But Carrie Cimma gets to have the most fun as Bridget the maid, who she plays as a punky, Sid Vicious type of narrator. Surely, the show's overall rebellious attitude also owes much to Bobby Frederick Tilly II's costumes, which in turn seem to borrow many nice flourishes from Winona Ryder's wardrobe in "Beetle Juice."
Presented by Took an Axe Productions, Hillary Richard, and Peter McCabe at the Living Theatre, 21 Clinton St
.,
NYC. Sept. 12
–
Oct. 17. Thu
.,
8 p.m
.;
Fri. and Sat
.,
8 and 10:30 p.m
. (
212
)
352-3101
, (
866
)
811-4111, or www.theatermania.com. Casting by Sara Schatz at Jay Binder Casting
.