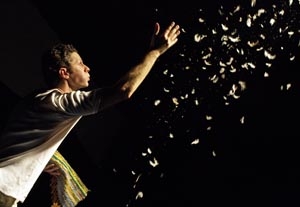 Late in "Looming the Memory," Thomas Papathanassiou's beloved grandfather, or "papu," tells him: "It is a difficult thing to have your heart in two places." For Papathanassiou, whose immigrant Greek parents raised him in Australia, that is clearly a struggle.
The writer-performer here vividly recounts his first visit as an adult to his parents' native village in Greece. He's immediately swept back into the intimate lives and long-held grudges of a coterie of villagers, most of whom are distant family members. His grandmother, or "yaya," weaves rugs as well as family tales, and through her Papathanassiou creates the central metaphor of this story.
Papathanassiou is an exceptionally talented actor and creates an expansive and living portrait of this tiny village and its inhabitants. Standing on a woven rug, he stalks the stage barefoot, clad simply in tan khakis and a white T-shirt. Using only his voice and some articulate gestures, he creates a rich collection of local characters.
But though the performance is pitch-perfect, the play, more driven by memory than conflict, often drags. Ultimately, "Looming the Memory" fails to offer the dramatic lift the performance deserves.
Presented by Thomas Papathanassiou as part of the New York International Fringe Festivalat Manhattan Theatre Source, 177 MacDougal St
.,
NYC
.
Aug. 22
–
29. Remaining performances
:
Fri
.,
Aug. 28, 7:15 p.m
.;
Sat
.,
Aug. 29, 5 p.m
. (
866
)
468-7619 or www.fringenyc.org
.