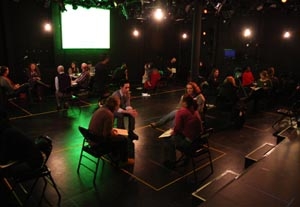 On the walls of Lush Valley's immigration processing center are quotes about hope, love, and opportunity. The unanswered question of "Lush Valley," the interactive theater event created by director Kristin Marting, dramaturg Mahayana Landowne, video artist Tal Yarden, and an ensemble of actors and writers, is whether those words have real meaning for the lives of its citizens.
Lush Valley is a fictional country, closely modeled on the United States, committed to the promise of an open society while retaining border restrictions, a market economy, and an interest in distinguishing the most "productive" new citizens among potential immigrants—in this case, audience members. After filling out my "application," I entered a large room, where I was interviewed, shown a promotional video, asked to listen to a rotating series of speeches, given a civics test, and invited into "think tanks," where I discussed political issues and helped to collectively rewrite Lush Valley's "oath of allegiance." At the end of the night, I found out whether I had earned citizenship.
The immigration officers, played by the ensemble, shift between moving the proceedings along and acting out their own stories in a "break room" that is visible and audible from the central playing area (they also occasionally break into choreographed dance, for variety's sake). Such collisions of public and private are also inevitably enacted by spectators when they openly question their interrogators, chat amongst themselves, and, in a touching sequence, watch on live feed a group of volunteers answering private questions ("What do you pray for?") in a separate room.
Playing the Lush Valley immigration game can be a lot of fun, like a Hasbro adventure in three dimensions. But it's hard to tell just how seriously the performers take the utopian promises of Lush Valley, and, thus, how cynically we are allowed to approach the proceedings. That ambivalence gives a provocative friction to this odd production, as it reveals the connection between free speech and empty platitudes, as well as the blurring of freedom and competition in a liberal democracy. I left "Lush Valley" expecting that if I had spent much more time in this made-up nation, I would have found it as imperfect as my own. 
Presented by and at Here Arts Center, 145 Sixth Ave., NYC. Sept. 11–24. Mon., Wed.–Sun., 8:30p.m. (212) 352-3101, (866) 811-4111, www.theatermania.com, or www.here.org.