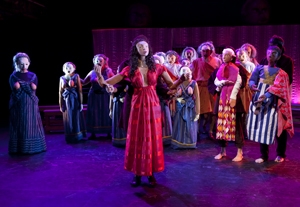 Theodora Skipitares begins her new adaptation of "Lysistrata" with an "Animal Planet"
–
like video about the reproductive cycles of seahorses. Considering that the seahorse is a species in which the male carries and gives birth to the young, the clip makes an appropriate epigraph to Aristophanes' 2,000-year-old comedy, which calls into question the priority of human sexuality and typical gender roles. Skipitares also directs this inconsistent, highly affected production, employing several types of puppetry and multimedia to tell the story of a sex strike carried out by the women of Greece to end the Peloponnesian War.
Lysistrata and her fellow countrywomen are all depicted here using full-body puppets, elegantly styled by Skipitares, Jane Catherine Shaw, and Cecilia Schiller. The darkly clad performers are essentially strapped to the backs of these puppets, able to manipulate the arms and heads with simple rods. As in Aristophanes' original text, the play features two feuding choruses, one of old men and one of old women, who clash outside the cordoned-off Acropolis, where the abstinent young women are on lock down. These choruses include some body-double puppets, allowing the four-person groups to effectively appear as raging mobs of 10.
Though this sexually charged production offers many bawdy laughs—I lost count of the number of puppet erections—and a twinkly ambient score composed and performed live by Sxip Shirey, many of the episodic scenes transition clumsily or merely fizzle out with no clear ending beat. Supplemental news footage and commentary on sex strikes in modern times help to preserve some momentum but ultimately insist a little unnecessarily on the play's contemporary relevance. Is it really in doubt that people still generally want sex and will make huge compromises to get some?
Antonevia Ocho-Coultes plays Lysistrata and operates the puppet with much poise, often evoking seductive but forceful postures in her single-minded mission. Likewise, masked performers Raquel Cion and Hakim Williams are charming as the curmudgeonly leaders of the female and male choruses, respectively.
Presented by La MaMa ETC and Skysaver Productions at La MaMa ETC, 66 E. Fourth St., NYC. Feb. 6–13. Thu.–Sat., 7:30 p.m.; Sun., 2:30 p.m. (212) 352-3101, (866) 811-4111, (212) 475-7710, www.theatermania.com, or www.lamama.org.