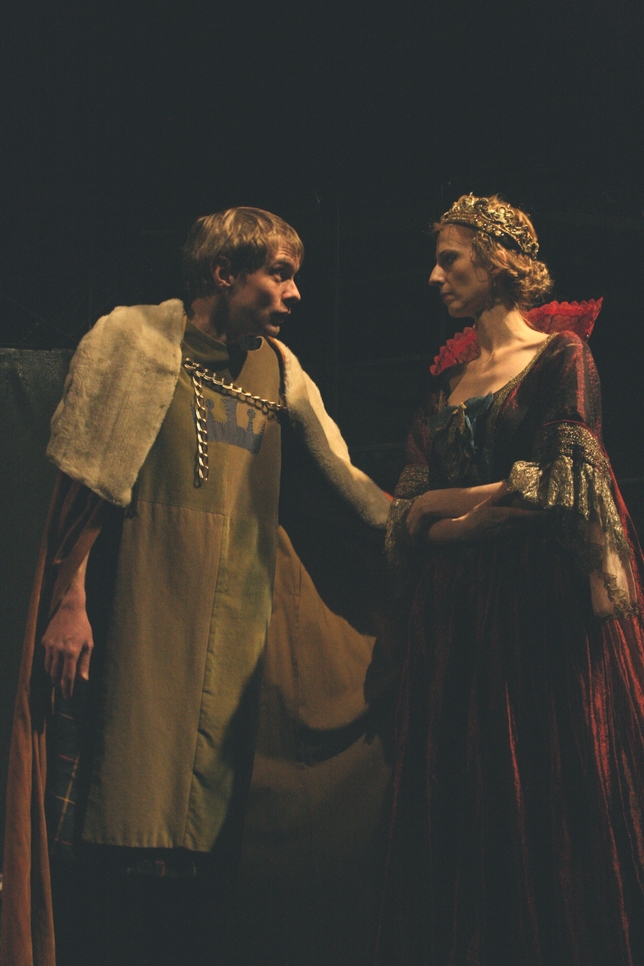 I'll assuage your curiosity immediately and tell you that the "OP" in "Macbeth OP" stands for "original pronunciation." The Shakespeare OP Players, which is presenting this edition of the Bard's tragedy of "vaulting ambition" and evil in 11th-century Scotland, is a company dedicated to performing his works as they may have sounded when first performed in London some 400 years ago. The aim, as a program note tells us, is to bring audiences closer to the author's intentions, revealing "rhymes and puns in the text that are not audible in Modern English." As spoken in this "Macbeth," the company's second offering (it did "Twelfth Night" last year), the language also takes on a more lyrical sound, with broader vowels and pronunciations of consonants that often remain silent today, such as the "k" in knife.
The sound is not always consistent throughout this large cast. The language occasionally resembles an Irish lilt. Sometimes there's more than a hint of a Welsh dialect, and at other times it begins to sound like the Midlands English spoken in the kitchen-sink dramas of the 1950s. For the most part, though, the language takes on a seductive expressiveness, and the text doesn't seem any more or less comprehensible than in a Shakespearean play done in contemporary pronunciation.
What's equally impressive about the production—and perhaps even more so—is the palpable dedication and joy in performing that director and company founder Hamilton Meadows has engendered in his cast of 26 players. To be sure, there are plenty of rough edges and moments when stage presence is in short supply, but the enthusiasm engendered by the company is infectious, and the story of Macbeth's bloody rise to and holding of the Scottish throne—clocking in at about two hours and 10 minutes with no intermission—keeps you interested.
Meadows has emphasized the supernatural elements of the story. As played by Aimee Thrasher, Maria Hoffmann, and Nancy Rich, the three witches, whose predictions ignite Macbeth's corrupted ambition, constitute an imposing trio. Furthermore, they're augmented by an ensemble of five more witches, who often lurk in the shadows, watching the proceedings with sinister smirks. Their malevolence is heightened by the serpentine movement provided by choreographer Gianna Cioffi and ominous offstage drumbeats.
Björn Pederson is an oddly arresting figure in the title role. He gives the character a voice with an ear-grabbing timbre, but the famous soliloquies often take on a somnolent air. Together with a halting physicality and an almost perpetually worried look, his Macbeth seems to be a puppet of the supernatural forces shaping his doom rather than a man driven by his own internal motivations. In contrast, Lize Johnston makes Lady Macbeth's hunger for power formidable, and her guilt-stricken demise is affecting.
All in all, the ambition and goals of this production balance out its shortcomings, making it, like the day that Macbeth first meets the weird sisters, both "fair and foul."
Presented by the Shakespeare OP Players at the American Theatre of Actors, 314 W. 54th St., NYC. Feb. 7–24. (212)-868-4444 or www.smarttix.com.
Critic's Score: B