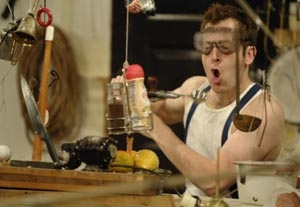 Goofball antics have deeper meaning in
Machines Machines Machines Machines Machines Machines Machines
, a three-man caper that starts off hysterically but ultimately becomes a tedious exercise in silly physical comedy.
Created and performed with boundless and ingratiating energy by Quinn Bauriedel, Geoff Sobelle, and Trey Lyford,
Machines
… unfolds in a dingy, junk-filled apartment where three guys have rigged a dizzying number of wires, pulleys, and chutes into a variety of automated systems, like the ones found in old Sylvester and Tweety Bird cartoons or the board game Mousetrap! (Steven Dufala and Bill Blaise Dufala are credited with the ingenious machines design and something termed "set treatment," while scene design is by Hiroshi Iwasaki).
These gizmos are meant to both automate everyday tasks such as frying an egg or eating cereal (for which a spoon that's been attached to an egg beater is used) and provide protection from an unseen enemy, who, according to the Chief Commander (Bauriedel, channeling former President Bush and Jimmy Stewart simultaneously), will be attacking on the day the play takes place. He's learned this from a phone call from "God"—taken in a neatly hidden bathroom—and with his announcement, the men begin preparations.
It quickly becomes apparent that for all of its lunatic humor,
Machines
… also comments wryly on any government's efforts to remain militarily prepared for possible attacks. Unfortunately, once we realize this, the guys' behavior—the propensity of the kilt-wearing Phineas (Sobelle) to spin ludicrous fairy tales in a heightened British accent and the robotic affectations that Liam (Lyford) continually vocalizes (assisted by sound designers James Sugg and Sean Mattio)—wears increasingly thin. And by the time the play, staged with unfocused intensity by Aleksandra Wolska and Charlotte Ford, explodes in a conclusion worthy of Monty Python, patience has worn out. Perhaps if
Machines
… had debuted during the Bush administration, its zaniness might have been a more enjoyable and satisfying theatrical tonic.
Presented by Here Arts Center and Rainpan 43at Here Arts Center, 145 Sixth Ave
.,
NYC
.
June 6
–
27. Wed
.–
Sat
.,
8:30 p.m
.;
Sat. and Sun
.,
4 p.m
. (
Additional performances Fri
.,
June 19 and 26, 11 p.m
.)
(
212
)
352-3101
, (
866
)
811-4111, www.theatermania.com, or www.here.org
.