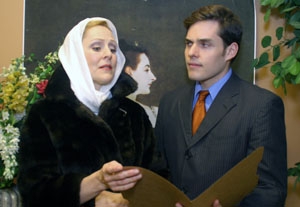 Thanks to a magnetic performance by Donna English, "Madame X," the new musical by Gerard Alessandrini and Robert Hetzel, rises above mere camp and evolves into a delightfully touching musical comedy.  Alessandrini (famed for his "Forbidden Broadway" parodies) and collaborator Hetzel blend Alexandre Bisson's 1905 play and a bushel of movie musical references into a confection that initially tickles us with silliness and then satisfies emotionally.
The irresistible English portrays Bunny Bixby, a beauty contest winner who marries a senator. Their early-1960s Connecticut life is perfect until Bunny, overcome with loneliness because of her husband's frequent absences, slips into an affair.  Her cold-blooded mother-in-law, Evelyn, discovers the affair and forces Bunny to flee to Europe.  For the next twenty years, our heroine drinks and sleeps her way across the continent, eventually becoming an absinthe-addicted prostitute.  An extortionist intending to use her to blackmail her former husband brings Bunny back to America, but before the scheme can go into action, she kills the rat. In a far-fetched but inevitable coincidence, her court-appointed attorney turns out to be her son. Bunny doesn't tell him who she is; instead she dies happy, knowing that her child has grown up to be a good, untainted man.
Alessandrini and Hetzel's book delivers laughs to those seeking in-jokes and thoughtful material for those who take Bunny's tale seriously. Their lyrics are masterfully crafted and awash with delicious word play. Their music, however, is rather prosaic, seeming to exist more to serve the words than to set the heart on fire.
Under Alessandrini's witty direction, the entire cast acquits itself quite well. In addition to the terrific English, Michael West scores with three entirely different and amusing characters, and Janet Dickinson stops the show twice with her calculating Evelyn.
James Horvath's clever choreography illustrates how simple movements and gestures can elevate a throwaway moment into a highlight.
Susan Hemley's costumes provide color and glamour. The simply perfect, uncredited set consists only of eight chairs and a life-size copy of John Singer Sargent's famous painting of Madame X. While it's impossible to know what she thinks of the drama playing out literally under her nose, I'm certain I caught her smile once or twice.
Presented by John Freedson, Myrna Duarte, and John David West as part of the New York Musical Theatre Festival at the 47th Street Theatre, 304 W. 47th St., NYC. Oct. 2-13.  Remaining performances: Sat., Oct. 8, 11 p.m.; Sun., Oct. 9, 7 p.m.; Thu., Oct. 13, 4:30 p.m. (212) 352-3101 or www.nymf.org.