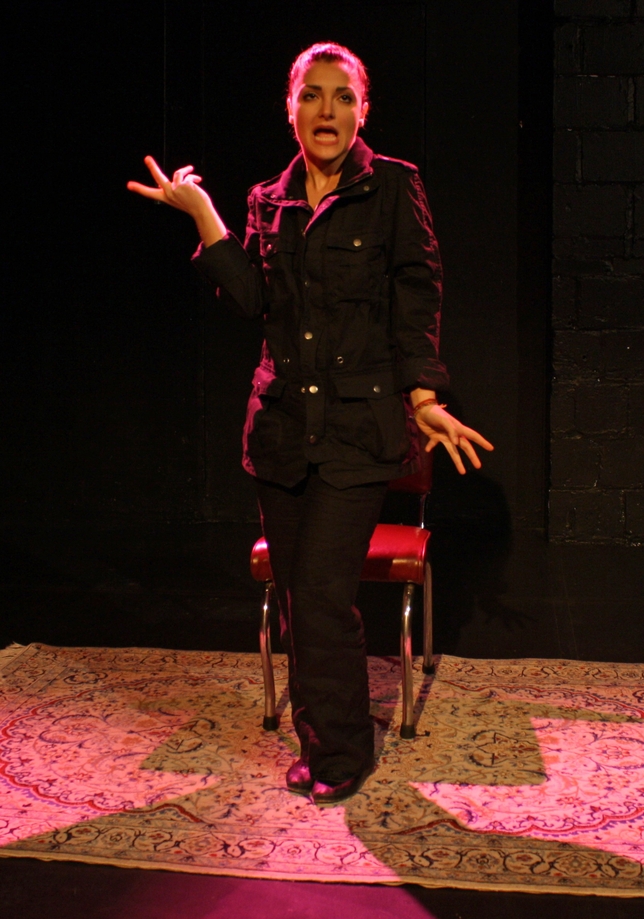 The lovely Tara Grammy proves that she's a very talented woman with "Mahmoud," which examines the lives of several Iranian expatriates living inToronto. Her acting and writing (she collaborated on the script with director Tom Arthur Davis) are equally vivid in this entry in the New York International Fringe Festival.
Grimes plays the titular cab driver, who has lived in Canada for 25 years but still longs for his country; Emanuelos, a gay Spanish cologne salesman whose fiancé is on a trip back to Iran to tell his family about their marriage plans; and herself, both as a 12-year-old and today. While they initially appear to be separate stories, Grammy and Davis bring them satisfyingly together late in the 50-minute piece. What, alas, doesn't satisfy is their ambitious finale involving the Iranian riots that occurred after the rigged 2009 presidential election. It's well-meant but too abstract in execution.
The gratifyingly complex portraits strip away our preconceptions of what it means to be Iranian. For example, the authors don't shy from Mahmoud's misogyny and homophobia, but they refuse to reduce him to those qualities, and we can appreciate him for such positive aspects as his kindness, family loyalty, and intense anger at what the fundamentalist regime has done to his beloved country. Grammy differentiates among them with precision and specificity, though at times her performance feels just a tad too large for the tiny Jimmy's No. 43 space.
Presented by Pandemic Theatre as part of the New York International Fringe Festival at Jimmy's No. 43,43 E. Seventh St., NYC. Aug. 10–25. Remaining performances: Fri., Aug. 17, 5:15 p.m.; Sun., Aug. 19, 5:30 p.m.; Fri., Aug. 24, 5 p.m.; Sat., Aug. 25, 7 p.m. (866) 468-7619 or www.fringenyc.org.
Critic's Score: B