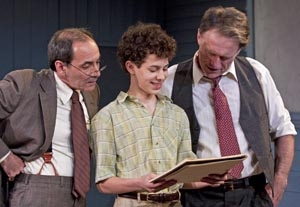 Looking back on the "good old days" can be comforting in these trying times. But in this quintet of promising though never completely satisfying plays, even the golden age of Eisenhower and the hopeful days of JFK are tinged with darkness. 
The series starts with Kia Corthron's
Trickle
, which dives headlong into our current economic difficulties, as a company's woes set off a chain reaction of hardships. After the perkily pedantic, self-involved Jean (Geneva Carr) informs her secretary (Shirine Babb) of a 20 percent pay cut, the secretary must cancel her company's contract with caterer Isabel (Tatiana Suarez-Pico), forcing Isabel to close her business and lay off her nanny, Angelique (shrewdly played by Nikki E. Walker). Though it can sometimes feel like an economics lecture,
Trickle
, directed solidly by Will Pomerantz, ultimately delivers a clever twist and a piquant punch as Angelique goes to work for Mei (Jackie Chung).
Christine Farrell's
For the Love of God, St. Teresa
turns the clock back to the early 1960s. Set in a parochial school, it attempts to both deliver laughs and provoke thought, as a nun (played stridently by Farrell) confronts a student (Lucy DeVito) about an encounter with a boy. The play raises questions about personal responsibility and respect, but in Deborah Hedwall's frantic staging, broad comedy overwhelms the more delicate and thoughtful aspects of the script.
Garrett M. Brown's charming, innovative memory play
Americana
is more successful. A family's encounter with an encyclopedia salesman (Chris Ceraso) in the late 1950s proves to be the happiest memory for both a father (excellently played by Michael Cullen) and his son (a winning Miles Bergner). Brown's innovative structure and quirky details indicate he's a playwright of promise.
Perhaps the most satisfying work of the evening is Tommy Smith's
PTSD
, a graceful, harrowing return to the present. Gulf War veteran Riles (Haskell King) has a bumpy transition to civilian life as his sister (Stephanie Janssen) battles mental and emotional problems and his father (Jay Patterson) can't make ends meet. Under the sure guidance of director William Carden, the company, which also includes Julie Fitzpatrick as Riles' girlfriend, delivers understated performances that maximize the impact of this brief but powerful play.
Series A concludes with Maggie Bofill's
Face Cream
, which revisits the Mars/Venus nature of relationships as a husband (Bruce MacVittie) and wife (Paula Pizzi) dress for their daughter's wedding. The play could belong to any era, but it feels clichéd rather than timeless. It brings the program to a disappointing end, but these one-acts deliver the message that any period, no matter how fondly remembered, can be fraught with difficulties.
Presented by and at the Ensemble Studio Theatre,549 W. 52nd St
.,
NYC
.
May 24
–
June 19. Schedule varies
.
(
866
)
811-4111 or www.ensemblestudiotheatre.org
.
Casting by Robin Carus
.