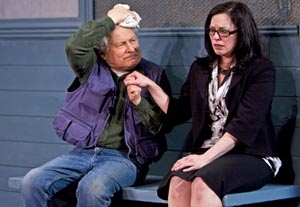 The five one-acts in the Ensemble Studio Theatre's Marathon 2009: Series B could be considered one of the best values in town. At nearly three hours, it's a lot of theater for the money. Unfortunately, quantity doesn't always equal quality, and such is the case here, with promising premises stretched to the breaking point, repeatedly straining the audience's patience.
The most enjoyable play is Jeanne Dorsey's charming but familiar
Blood From a Stoner
. Directed with sensitivity by Maria Mileaf, it examines a woman's relationship with her father as they have lunch. The daughter (Patricia Randell) is aggressively impatient with her dad (David Margulies) from the get-go, and her reasons become clear: He's always undermining her accomplishments. Dorsey's writing has a gentle naturalism, but there's no new insight into parent-child dynamics here.
Billy Aronson delivers the quirkiest of the plays,
Little Duck
, about television creatives launching a new children's series, which proves to be an endeavor worthy of Machiavelli. A few laughs are had at the adults' bad behavior, and Aronson has written for kids' TV, so presumably he's skewering some types he's met in the pompously sweet consultant Dr. Jill (Julie Leedes) and the self-important artist RJ (Steven Boyer). But Jamie Richards' fussy, unfocused direction and Aronson's repetitive writing immeasurably undermine the comic impact.
Cassandra Medley's
Daughter
opens beautifully as Alma (played touchingly by Gayle Samuels), mourning her daughter Monique's death after a tour of duty in Iraq, imagines how she might have protected her child: The funeral dissolves into a fantasy in which Alma drives Monique (the winningly vivacious Kaliswa Brewster) to Canada. But then political polemics blend with clichéd bathos as flashbacks reveal the family's life before and after Monique's time in Iraq, making
Daughter
feel like socially conscious TV fare.
Leslie Ayvazian plays Carol in her one-act
Carol and Jill
, about two women who find that their relationship is deeper than they imagined. Set on the eve of Carol's 60th birthday as the women vacation with their unseen husbands, the play telegraphs too much in early monologues about rivers that run parallel and ultimately converge. Ayvazian and Janet Zarish deliver flavorful turns, but their work is not enough to sustain interest in the cloyingly elliptical dialogue and predictable situation.
The series concludes with M.Z. Ribalow's
Sundance
, an interminable existentialist Western. It too begins promisingly, with gun-totin' outlaws sitting in a saloon (Maiko Chii's scenic design is marvelously flexible) and discussing why they kill. Hickock (Richmond Hoxie) does it to right perceived wrongs, Jesse (David Deblinger) for fun, Kid (J.J. Kandel) to further Marxist revolution, and Sundance (Rob Sedgwick) because he can. Ribalow imbues these stock characters with an exceptional erudition that initially amuses but turns increasingly annoying as Matthew Penn's lethargic production proceeds.
Hickock reminds Jesse early on that "quantity is not the issue." It's advice these playwrights might wish to heed should they revisit these overlong short plays.
Presented by and at the Ensemble Studio Theatre
,
549 W. 52nd St
.,
NYC
.
June 7
–
27. Schedule varies
.
(
212
)
352-3101
, (
866
)
811-4111, www.theatermania.com, or www.ensemblestudiotheatre.org
.
Casting by Robin Carus
.