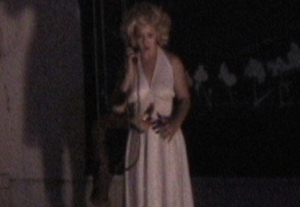 Writer-director Erik Zambrano's rumination on the cost of fame, the loss of identity, and the mystery of desire loses itself in a nontraditional style of presentation that never connects with the audience. Melding Noh and Butoh staging techniques with an array of computerized projections and sound effects, he depicts Marilyn Monroe and Joe DiMaggio falling in love with real and imagined lovers while honeymooning in Japan. The result is an insular, mechanical production that seems uninterested in drama or entertainment. Zambrano clearly has ideas and a poetic voice, but he confines himself to a coterie by limiting his work's accessibility.
The projections are frequently haunting, and the choreography generates a few ethereal moments. Brian Walters' manic Japanese TV host provides a welcome dash of humor and humanity. But at the end, when Marilyn literally unplugs the show with the words "Wouldn't it be fascinating," the only honest answer I can give is no.

Presented by Zambrano Tomorrow as part of the New York International Fringe Festival at the New School for Drama Theatre, 151 Bank St., NYC. Aug. 14-26. Remaining performances: Wed., Aug. 18, 9:30 p.m.; Sat., Aug. 21, 7:30 p.m.; Thu., Aug. 26, 6:30 p.m. (866) 468-7619 or www.fringenyc.org.