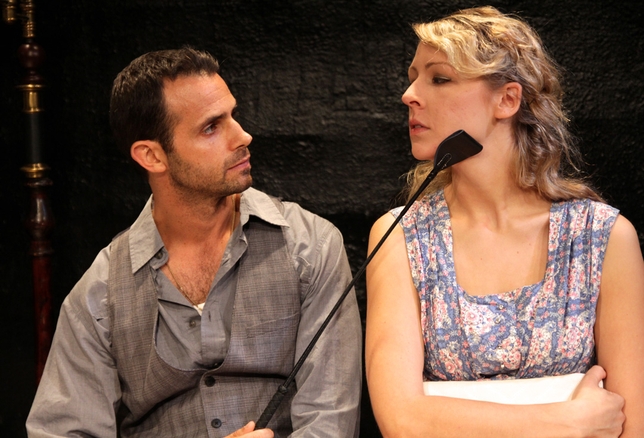 The lost women of Tennessee Williams come to quivering life in "Something Wild…," a program of three one-acts by the greatest of American playwrights at the tiny Dorothy Streslin Theatre in the Abingdon Theatre Arts Complex. The closet-sized space is transformed into a hot summer porch charged with barely repressed sexuality, a sleazy bordello full of dashed dreams, and a lonely stretch of railroad track thanks to the precise and sensitive direction of Ken Schatz and some perfectly balanced performances.
Each of the three short works from 1946 features a Williams heroine at the end of her rope, desperately attempting to climb it or at least cling to it, lest she fall into oblivion. You can see traces of the delusional Blanche DuBois and the pathetic Laura Wingfield in each one as she spins a web of fantasy to protect herself against the harsh realities of an unforgiving world.
For the most part, Schatz and his cast carefully avoid the pitfalls of cornpone cliché you sometimes get with overenthusiastic interpretations of the playwright's Southern-flavored oeuvre. The program begins with Samantha Steinmetz (pictured, with Brian Gianci) as Flora Meighan, the dreamy-eyed housewife of "27 Wagon Full of Cotton," screaming in a syrupy drawl, and it appears we may be in for an evening of exaggeration. Fortunately, she settles down to a finely detailed interpretation of this rudderless woman. Flora's husband, the brutish Jake (a wildly funny Jack Haley) has set fire to the cotton gin of rival businessman Silva Vicarro (a slyly menacing Brian Gianci). Vicarro takes revenge by seducing Flora, and she goes from being the victim of her violent spouse to the not entirely unwilling plaything of a sadist.
Next is "Hello from Bertha," set in a sleazy whorehouse where the titular tart is suffering from a severe unnamed illness and the madame is about to throw her out. This is the weakest segment due to miscalculation from Andrus Nichols as Bertha and director Schatz. Both failed to take into account the intimacy of the closet-sized theater and overplay Bertha's rage. As a result, Nichols shouts almost all of her lines and we don't get to see the character's vulnerability or her yearning for love and security, symbolized by a long-gone lover who has probably forgotten her. Vivienne Leheny does provide flashes of fire as the no-nonsense head of the house and the uncredited sound design creates an appropriately rowdy, honky-tonk atmosphere.
The evening concludes with "This Property Is Condemned," a showpiece for Tess Frazer as Willie, an eccentric young girl abandoned by her family and living in an empty house. The play is largely a monologue as Willie attempts to make friends with Tom (an understated David Armanino), a boy playing hooky. Frazier brilliantly balances Willie's quick wit with her gnawing need to bond. Like the character, the actor creates an entire world with only her imagination, a broken doll, a rotten banana, and some costume jewelry.
This trio is the premiere production of new theater company Pook's Hill. It is off to a fine, complex, and exciting start.
Presented by Pook's Hill at the Dorothy Streslin Theatre, Abingdon Theatre Arts Complex, 312 W. 36th St., NYC. Sept. 21–Oct. 6. (800) 838-3006 or www.brownpapertickets.com.
Critic's Score: A-