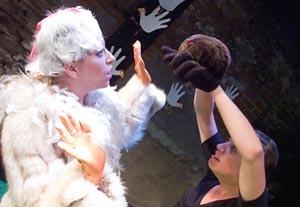 Oh, admit it—you can surely complete the playground rhyme that supplies the title of playwright Joshua Conkel's queer childhood fantasia, "MilkMilkLemonade." Yes, as embarrassingly juvenile as those scatological beverages and chocolaty confections may seem, they are fitting for Conkel's cheeky sandbox of naughty game play.
Relying on a decidedly children's-theater aesthetic (yes, the set is constructed almost completely from corrugated cardboard), "MilkMilkLemonade" tells the delirious tale of Emory (Andy Phelan), an effeminate boy who plays with dolls and dreams of making it big on the TV talent show "Reach for the Stars," freeing him from his miserable rural existence on his Nanna's poultry farm. His only friends are a giant chicken named Linda—doomed to be processed into cutlets—and his playmate-cum-lover, the pyromaniacal neighbor boy Elliot (a butched-out Jess Barbagallo).
As ridiculous as this may sound, it's the campy kind of ridiculousness that allows Conkel to delve into the darker side of childhood lurking behind the pastoral cardboard-cutout innocence. Burgeoning gender-play fantasies crash against prescribed societal roles, particularly when Emory and Elliot's game of house transforms into a trailer-park Tennessee Williams scene. But while Conkel giddily flits from theme to theme, one wishes he would tighten the reins on his own writing, opting for a bit more structure than exploration.
But that's where director Isaac Butler and his exceptional cast come in. Except for a few missteps (the production sags in the middle), Butler's brisk direction milks the script for all it's worth. Furthermore, the talented cast serves up scintillating performances that transcend Conkel's material, most notably Nikole Beckwith as an ill-at-ease narrator. Of course, playing around in the show's naughty dramaturgical sandbox gets pretty messy—but, just like on the playground, sometimes getting dirty is more fun than following the rules.
Presented by the Management and Horse Trade Theater Group at Under St. Marks, 94 St. Mark's Place, NYC. Sept. 11
–
26. Thu
.–
Sat
.,
8 p.m
. (
212
)
868-4444 or www.smarttix.com
.