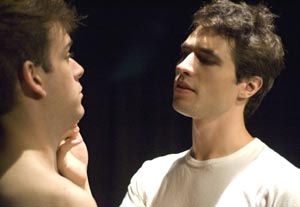 Michael López-Sáenz takes his play's title from the Möbius strip, which is created by taking a strip of paper, giving it a half twist, and then joining the ends. It makes what mathematicians call a nonorientable surface. This applies more successfully to his story's out-of-sequence structure than its content, even with a budding teenage genius as his protagonist. Regardless, this earnest but underdeveloped 75-minute (with intermission) drama, set in 1984, can't contain its plethora of subject matter, including dysfunctional family dynamics, the nature of genius, mental instability, gay self-acceptance, and the disorientation of grief.
R.J. Barnett is nonetheless exceptional as high school junior Montgomery, negotiating even the purplest writing with honesty and sensitivity. Joseph Vincent Cordaro is charming as his straight fraternal twin, though he can't compensate for the role's passivity and excessive monologues. Austin Mitchell makes the most of his one scene as the hunky object of Montgomery's affections, in a part that can only be described as a nudus ex machina.
López-Sáenz raises intriguing questions, but right now he's clearly not prepared to explore the answers. 
Presented by Emmett Productions as part of the New York International Fringe Festival
at Here Arts Center, 145 Sixth Ave., NYC. Aug. 14–25. Remaining performances: Sun. Aug. 15, 9:30 p.m.; Thu. Aug. 19, 5:15 p.m.; Sat., Aug. 21, 8 p.m.; Wed. Aug. 25, 7 p.m. (866) 468-7619 or www.fringenyc.org.