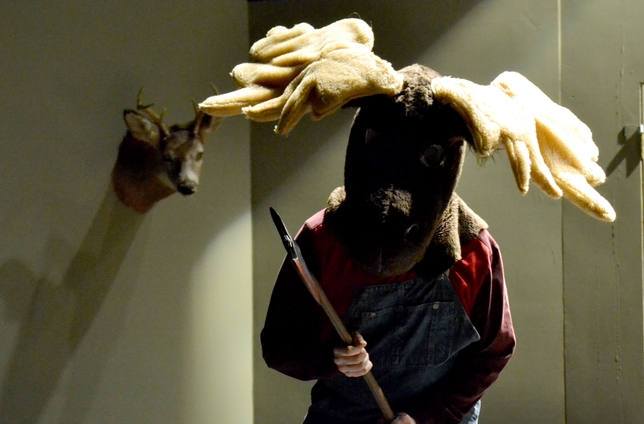 Some flops are better left buried. Such is the case with "Moose Murders," perhaps the most infamously awful show in Broadway history. This farcical concoction about serial killing in an upstate New York lodge closed on its opening night in 1983 and has since attained legendary status for the high degree of its terribleness. Star Eve Arden quit after the first preview, and The New York Times' Frank Rich called it the worst play he had ever seen on a Broadway stage.
Now, 30 years later, the Beautiful Soup Theater Collective has bravely or foolishly—depending on your outlook—remounted this disastrous play, which has been "shamelessly revised" by its author, Arthur Bicknell. I did not see the original production; I was in New York then but wasn't fast enough to catch it. This new edition is painfully unfunny. In a program note, director Steven Carl McCasland states, "This is a true 'Moose Murders.' No mocking here. No camp." If only he had employed some, the show might have been a hoot. But McCasland, who also plays a blind lounge singer, stages the proceedings with a striking unawareness of the lameness of the jokes and the outlandishness of the plot.
The absurd story line is an inept parody of murder mysteries such as Agatha Christie's "Ten Little Indians," in which an unknown assassin is picking off victims in an isolated location. The wealthy, eccentric Holloway family has taken over the Wild Moose Lodge in order to care for its paralyzed patriarch, Sidney, who hovers dangerously close to death's door. Terrible husband-and-wife entertainers Howie (he's the blind one) and Snooks Keene have been playing the lodge and are kicked out by the Holloways. However, they cannot leave because the only bridge has been washed away in a torrential storm. Add Sidney's glowering nurse and a phony Native American caretaker and the list of kooky cardboard suspects is complete.
McCasland's pacing is slow and slack (death for a farce), while the acting is exaggerated and shallow. You need a core of honesty in the performers' pursuit of their characters' objectives in order for comedy to succeed. I will not mention any of the actors, as their work is uniformly subpar, and they might want to find employment in the future. It should come as no surprise then that the biggest laugh occurs when one character remarks that another has been unconscious for most of the action and adds, "Perhaps we should envy him."
There are times when a show can be so bad that it's good, but "Moose Murders" is just bad.
Presented by the Beautiful Soup Theater Collective at the Connelly Theater, 220 E. Fourth St., NYC. Jan. 30–Feb. 10. http://beautifulsoup.showclix.com.
Critic's Score: F