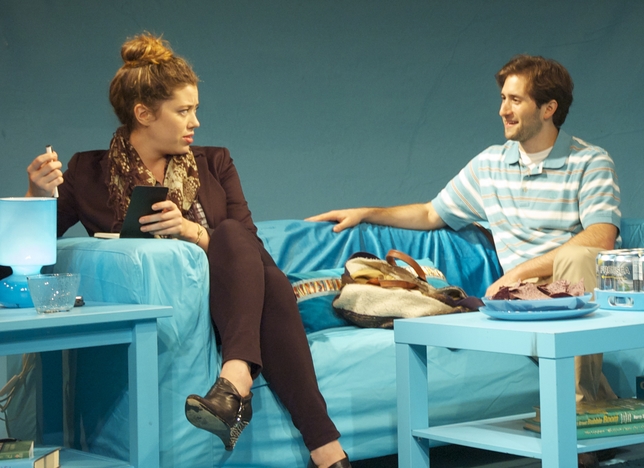 "#MormoninChief" begins with a ridiculous premise: An unassuming Mormon named Connor becomes a national political celebrity because of his single Tweet paraphrasing a comment made by his church brother, the Republican candidate for president. The politician says at a church service that he wants to "save"America"from the gays, illegals, and bleeding hearts."
The ridiculous is an ordinary occurrence in an election year, however, and so from this premise Matthew Greene's play could have blossomed into a satisfying satire (which is what I inferred it would be from its arch title). Or it could have veered into a sophisticated debate of various topical issues. Instead, "#MormoninChief" is a three-character play that, as lethargically directed by Austin Regan, is neither satiric nor sophisticated. At best it offers some halfhearted explorations of vague personal moral dilemmas facing Connor (Jesse Liebman);Lydia(Nicole Rodenburg), the blogger who unearths his identity; and Kate (Karis Danish), the daughter of a Mormon bishop and the wife of a colleague with whom Connor is competing for a promotion.
The largest moral lesson of "#MormoninChief" may be: Don't be misled into thinking something will be entertaining just because its title has a Twitter hashtag or the word "Mormon" in it.
Presented by Michael Holt Productions as part of the New York International Fringe Festival at the Kraine Theater,85 E. Fourth St., NYC. Aug. 11–22. Remaining performances: Sat., Aug. 18, noon; Sun., Aug. 19, 7 p.m.; Wed., Aug. 22, 2:30 p.m. (866) 468-7619 or www.fringenyc.org.
Critic's score: F+