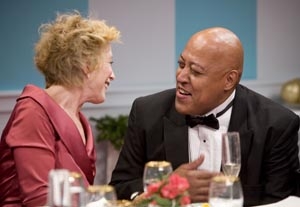 Watching Buck Henry and Holland Taylor romp through
Mother
, Lisa Ebersole's new play at the Wild Project, gives new meaning to the word
overqualified
. You're very grateful they're there, but you can't help wondering why.
Mother
seems more like a performance-art installation than a play. We observe, in real time, the interactions of a dysfunctional family—mother, father, daughter, son—across a dinner table in a five-star restaurant at a West Virginia resort the family returns to year after year. Some audience members are seated at other tables on stage and are served drinks. An otherwise silent waiter occasionally interacts with them before the show. The rather cheap-looking representational set by Sandra Goldmark is framed by the theater's undisguised cinderblock walls. There's a lot of overlapping dialogue, and nothing in particular happens, even if matters of great import sometimes pop up in the conversation.
What the show has going for it, aside from Henry and Taylor, is Ebersole's ear for dialogue. She knows exactly who these people are and how they interact. Under Andrew Grosso's precise direction, the cast navigates complicated physical business and all that chatter with utter conviction. It's impressive to watch. Unfortunately, it doesn't feel like it's serving any particular purpose. There is a moment, when a handwritten note arrives at the family's table apparently announcing that daughter Kate has been kidnapped, when it seems the play is moving beyond cute hyperrealism to something more interesting. But Ebersole drops the gambit without exploiting it.
Henry is all self-involved snappishness as the father, Joe. In the simple act of refusing to drink his Chivas Regal because he doesn't think it's the real thing, the actor reveals volumes. Taylor brings her trademark sass and sang-froid to mother Kitty, who can't stay on the wagon and has a highly romanticized view of her emotional connection to the restaurant's staff. Haskell King's Jackie, the petulant son who claims to be seeing a married woman even though, or perhaps because, his family thinks he's gay, is every inch the "little prince" his mother ruefully calls him. Ebersole plays Kate, who at 31 idly dreams of starting life anew in Uruguay—the role is likely a version of herself—without a trace of self-consciousness. As Chester, the restaurant's major-domo, Keith Randolph Smith radiates professional warmth and charm. He's also impressive the one time the professional mask slips. Darkly handsome David Rosenblatt isn't allowed a line of dialogue as that waiter but nevertheless makes his presence felt.
Ebersole dedicates the play "to my family, most of all, Dad" in her program bio, which leads to the assumption that it's autobiographical and the thought that she has overestimated the intrinsic interest of her family dynamics. She's got talent, but
Mother
needs a larger purpose.
Presented by Evill July Productions and Drs. Naomi and Avraham Kadarat the Wild Project, 195 E. Third St
.,
NYC
.
July 15
–
Aug. 1. Mon
.,
Wed
.–
Sat
.,
8 p.m
.
(
212
)
352-3101
, (
866
)
811-4111, www.theatermania.com, or www.mothertheplay.com
.