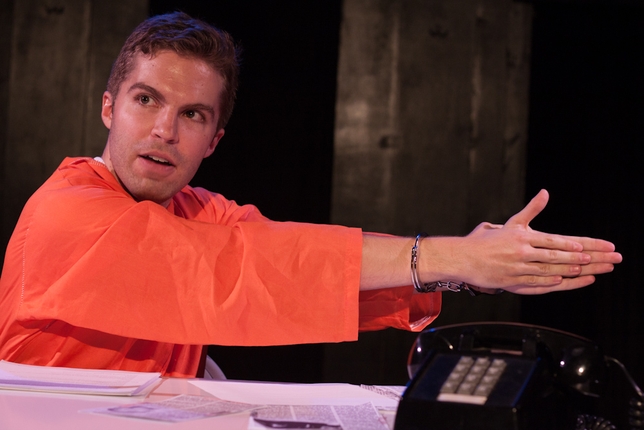 In "My Date With Troy Davis," actor-author Daniel Glenn faces us in an orange jumpsuit and handcuffs from an existential death row to talk about such philosophical concerns as free will, comparative moralities, and the worth of human life. Sounds dreary, no? Well, no.
As a teenager the engaging Glenn became obsessed with the case of Troy Anthony Davis, sentenced to death for the brutal murder of an off-duty police officer in Atlanta. Davis was convicted in 1991 but not executed until 2011, due to a huge public outcry over the less-than-clear-cut evidence. Glenn briefly met his idol, capital-punishment foe Sister Helen Prejean, who encouraged him to spend his life doing good. In that pursuit, among other things, he became a teacher and went to India, where he instructed children in the "untouchable" caste in how to speak English. Eventually, though, he found himself back in the U.S., unemployed and living with his parents while attending law school. Is his altruism finally spent?
Glenn's entertaining, somewhat surreal fantasia includes funny encounters with the U.S. Supreme Court and witty coincidental intersections with Davis' life. His modesty and self-doubt are humorous and touching. Director Amy Surratt's simple staging cleverly avoids being static. My only quibble? At 80 minutes the show is too long. Cut to a tight hour, it would pack more of a punch.
Self-presented as part of the New York International Fringe Festival at the Steve & Marie Sgouros Theatre,115 MacDougal St., 3rd floor, NYC. Aug. 10–26. Remaining performances: Tue., Aug. 21, 4:30 p.m.; Fri., Aug. 24, 2 p.m.; Sun., Aug. 26, 3:30 p.m. (866) 468-7619 or www.fringenyc.org.
Critic's score: B+