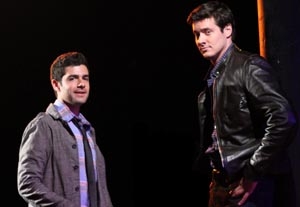 "Next Thing You Know" is something like a musical "Friends," but with less-funny lines: Four 20-something New Yorkers fall in and out of love, lean on one another for advice and validation, and constantly sing about their feelings and relationships. If Joshua Salzman's music and book writer Ryan Cunningham's lyrics weren't so appealing, it would be dreary indeed. As it is, a promising score sometimes lifts some extremely generic characters and storytelling above the commonplace.
Waverly (Lauren Molina), her acting career going nowhere, tends bar in a Sullivan Street dive, works at a law firm by day, and contemplates a possible legal career (a thread that's left hanging) while breaking up with Darren (Adam Kantor), an office temp who used to date Waverly's best friend, Lisa (Lauren Blackman), who later came out and hasn't met the right girl yet. Darren befriends shallow salesman Luke (Heath Calvert), who hooks up with Waverly, though the coincidence remains (unconvincingly) undiscovered. Meantime, Lisa considers moving to L.A. There's not a lot to say about these four, as their feelings change according to what their next number is. Lisa comes closest to consistency, remaining wry and sensible, while Waverly is variously seductive, impatient, unable to commit, and whiny. All are pushing 30 and spend a lot of time singing about missed chances, fading options, and muddled self-awareness. But it feels like Salzman and Cunningham wrote their songs first, then constructed a ramshackle story around them.
At least they're often lovely songs, neatly constructed, perfectly and sometimes ambitiously rhymed ("Me, I'm heading to California/You, don't say that I didn't warn ya"), and surprisingly scored for piano, cello, violin, bass, and guitar. No "American Idiot" cacophony here. This is lite-FM musical theater, and it caresses the ear even as it doesn't dramatize anything very dramatic. I'm not spoiling much to reveal that Lisa eventually does head west, and Darren wins Waverly back after telling off Luke—though Luke hasn't done anything terribly wrong, and seeing how Calvert is tall and dreamy and sings like an angel, I think he gets a raw deal.
Given the awkward space at CAP21, director Terry Berliner moves the foursome around efficiently, though two huge posts in the middle of the playing area sometimes obliterate the sightlines. Salzman and Cunningham are clearly talented, and I hope next time they choose a less bland topic and think their characters through a little more thoroughly. All the same, if "Next Thing You Know" produces a cast album, I want it.
Presented by and at CAP21 Theatre Company,18 W. 18th St., 5th floor, NYC. June 9–25. Tue.–Sat., 7 p.m. (212) 352-3101, (866) 811-4111, www.theatermania.com, or www.cap21.org. Casting by Geoff Josselson.