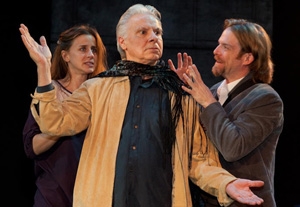 Ever since Faust emerged as a folk anti-hero in the mid-1500s, variations on the legend have proliferated. They aren't all bargains, however; for every gem there's been at least one dud. The late Jovanka Bach took her turn in the long line of distillers and adapters, which begins with Christopher Marlowe in 1604, continues through Goethe in the 19th century, Thomas Mann in the 20th, and extends to the musical stage thanks to Gounod's opera, based on Goethe, and Broadway's "Damn Yankees," care of songwriters Richard Adler and Jerry Ross and book writers Douglass Wallop and George Abbott. But the successful and celebrated Bach must have known that her work wasn't yet ready for page or stage; she stuck it in a drawer and told no one about it, not even her husband, John Stark. Stark discovered it after her death and is producing and directing it. The kindest adjective one can call it is "incomplete."
Barely 90 minutes long—with an intermission—"Nightsong" needs almost everything, including better-defined characters and a more developed plot. (The one unambiguous success here is Jaret Sacrey's lovely moonlit River Styx–side dock set, complete with foreboding rowboat to you know where.) There's nothing subtle or compelling in Bach's needlessly nonlinear telling (it's Act 2 before we get the devilish-pact setup explained). For Faust to work yet again, the narrative should offer up some new twist or insight. Something important must be at stake, even if it's just the Yankees losing the American League pennant. None of this is likely to come from Bach's aging, alcoholic, and failed poet Harry, who is hapless at finishing the sequel to his one hit collection, "Nightsong," from five years before, and halfheartedly suicidal. There's no help from his long-lost and newly affectionate daughter, his shrewish ex-wife, or his girlfriend of 10 years, a former poetry groupie with Eve Harrington tendencies. Harry's two faculty colleagues and the boatman and his idiot assistant never fully mesh into the proceedings either.
Actors can often transcend a weak script—but not here. Most of the eight players are merely adequate, a couple of them are worse than that, and all are underrehearsed. As Harry's girlfriend Sheila, Nicole Gabriella Scipione comes closest to fleshing out an underwritten part. As Harry, John DiFusco effuses too much energy for a hard-drinking, self-described failure deep on the downslide. For us in the audience, there's neither enough cause for sympathy for anyone on stage nor any real sense of menace regarding their fates.
Presented by John Stark at TBG Theatre, 312 W. 36th St., NYC. Jan. 13–30; Thu.–Sat. 8 p.m.; Sun. 2 p.m. (212) 868-4444 or www.smartix.com.