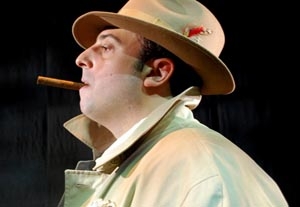 Noir
is a studiously rendered exercise in translating the visual aesthetic of film noir into a live theatre experience. Ingeniously designed by Cory Einbinder, who also directed, the production sets its detective-story action within a slick milieu in which everything is black or white, rectangular, two-dimensional, framed by rolling panels and screens, and bathed in deep shadows or sharp streams of light. Nothing is curve-shaped or three-dimensional except the actors. Most intriguing are Einbinder's cleverly designed props: Be it a bottle, a telephone, or a coffee cup, they are all flat and angular, wooden cutouts with magnets on the bottom that allow them to stand up on the linear furniture. A briefcase full of cash is flat as a pancake. Even the steering wheel of a car isn't round; it's diamond-shaped.
Despite the striking design elements and some smartly stylized fight scenes and chase sequences with choreography by Laura Peterson,
Noir
is dramatically a bore. Written by Kalle Macrides, its wordy script captures the tone but lacks the punch and color of film-noir dialogue. The narrative—a murder mystery launched by a killing that happens on a movie set when the prop gun is secretly replaced by a real one—is appropriately convoluted but unengaging. It involves all the stereotypical film-noir characters—femme fatale, corrupt cop, inquisitive newspaper reporter—but is played with uninspired gravity by a cast of merely competent actors. There is not a hint of parody, exaggeration, or humor—except in the music.
Noir
sports a deliciously edgy musical score composed by Tara Gladden and the Evil Horns, a combo of sax, flute, drums, bass, and clarinet. Performed live by the Evil Horns with band leader Nicole D'Agostino under the musical direction of Gladden, the hard-driving jazz music brilliantly evokes the postwar period, pays homage to classic movie music, and provides the emotional content the text and actors fail to deliver.
Presented by New York City College of Technology, Theatreworks, Adhesive Theater Project, and Laura Peterson Choreographyat New York City College of Technology's Voorhees Theatre, 186 Jay St
.,
Brooklyn, NYC
.
April 23
–
May 2. Thu
.–
Sat
.,
7:30 p.m
.
(
212
)
352-3101
, (
866
)
811-4111, or www.theatermania.com
.