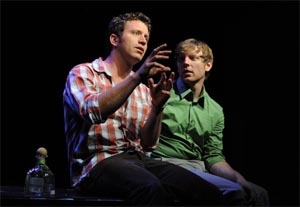 Author-director Jason Schafer, whose credits include the screenplay for the charming "Trick" and the first season of "Queer as Folk," has here written his obligatory I-hate-Hollywood play. Unfortunately, this tale of a whiny studio producer's assistant who undergoes a baptism of fire hasn't anything new to say.
The predictably nasty producer, his nasty-in-training 13-year-old daughter, and a druggie indie film producer round out the dramatis personae. There are standard sentiments expressed, such as the studio producer's "Everybody hates the truth tellers" (he is one, of course) and "Sex is power." The big secret the assistant finally gets on his boss is obvious long before it's exposed, as is what he decides to do with it.
Schafer directs smoothly, and his cast—Sarah Grover, Ian Scott McGregor, Chad Lindsey, and Scott Aiello—delivers solid work. But neither the characters nor the playwright's observations are ultimately worth the time and talent invested.
Presented by Goofy Foot as part of the New York International Fringe Festivalat the Players Theatre, 115 MacDougal St
.,
NYC
.
Aug. 14
–
29. Remaining performances
:
Wed
.,
Aug. 19, 5:30 p.m
.;
Mon
.,
Aug. 24, 10 p.m
.;
Sat
.,
Aug. 29, 5:45 p.m
.
(
866
)
468-7619 or www.fringenyc.org
.