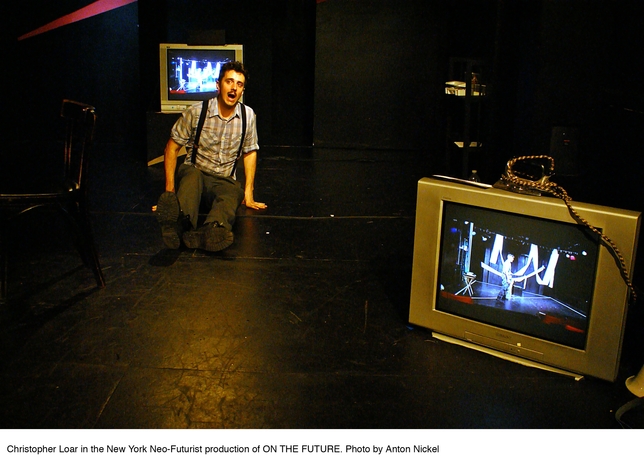 Don't look for any great revelations about things to come in "On the Future," the new offering from the New York Neo-Futurists. What it does deliver is some 80 minutes of unfettered, edgy frivolity—with serious underpinnings—on the titular theme.
The company is known for its long-running, ever-changing programs of short plays under the rubric "Too Much Light Makes the Baby Go Blind," presented weekends in the East Village and elsewhere. Similarly, "On the Future" consists of six playlets by company members performed by five of the playwrights. The scripts are basically sketches riffing on the future as a concept or an idea rather than as specific events to come. Under Rob Neill's direction, they meld into a fairly seamless vaudeville, augmented by lots of video and punctuated occasionally by brief bursts of song or dance.
Things start with "(y)our IMMEDIATE survival strategy," by Eevin Hartsough, in which the ensemble demonstrates how to get through calamities, past and future, going back to "duck and cover," the 1950s exercise taught to school kids in the event of an atomic-bomb attack. "Box," written and performed by Adam Smith, suggests ways to endure a power failure and is done almost totally in complete darkness. "Tempus Umbra," by Joey Rizzolo, has Daniel McCoy and Christopher Loar, with the help of shadow puppetry, contemplating the universe's beginnings along with the prospect that "there is no future…. Everything that happens has already happened, and always will."
The most linear of the scripts is Meg Bashwiner's "The Magnificent Meg Sees All." Bashwiner portrays a psychic in session with a volunteer audience member. The author scores laughs with her "psychic" insights—"Before you came here tonight you were somewhere else"—and says that she inherited her talent from her great-grandmother. Shortly, though, she confesses that she, like her relative, is a fraud. Nevertheless, in a warm and fuzzy conclusion, she declares that she can see into the unknown: "Your future will be your great-grandkids…. Hopefully, they will think you were a good person, even if you were a fraud." It's a nicely written piece.
"An Introduction to the Future of an Expanding Universe as Applicable to Queer Culture, Pop Culture and Culture Club" is pretty much self-explanatory. The writer-performers—Ricardo Gamboa and McCoy—lecture giddily that many elements of the universe are gay or gay metaphors, from comets to dark matter, and in the process transform themselves into a pair of ungainly drag queens.
"The Theoretical Physics of Procrastination," written and performed by Loar, is the closing offering and the most impressive. Loar enacts writing his play in the present, while in videos purporting to show the past he looks to the event as yet to be. It's all realized with sublime absurdity, eventually becoming a brilliant blend of video, recorded sound, and live performance.
There are points when the referencing of the future becomes a bit repetitious, but for the most part "On the Future" is lively and inspired and worth a place on your downtown theatergoing future.
Presented by the New York Neo-Futurists at the Red Room, 85 E. Fourth St., NYC. Oct 8–20. (212) 352-3101, (866) 811-4111, www.theatermania.com, or www.nynf.org.
Critic's Score: B+