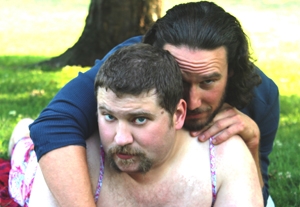 Let's not mince words. "2 Households, 2 Assholes: Shakespeare's R+J" is awesome.

Two apparently inexhaustible actors—Samuel Muñoz and Aaron Muñoz (they're not related)—deliver a full-bodied, crackling rendition of "Romeo and Juliet," romping through the Bard's dramatis personae in a supremely entertaining 60 minutes.

Imagine Abbot and Costello transformed into accomplished Shakespeareans and you'll have some idea of what's happening here. Aaron's the oversized one; Samuel's the lean fellow. There's certainly an initial touch of burlesque in the proceedings: for example, Aaron's demure but spunky Juliet and Samuel's hunched-over nurse. But their appreciative handling of the text soon suspends your disbelief while still keeping you intrigued at what they'll do next. Adding to the wonder is the fact that they're self-directed, including some impressive swordplay. Romeo's fatal duel with Tybalt—Samuel playing them both—is gasp-worthy.

Familiarity with the text is needed to fully appreciate what these guys are doing. So brush up your Shakespeare and go witness one of the greatest love stories ever written performed possibly as never before.

Presented by dosMuñoz as part of the New York International Fringe Festival at the SoHo Playhouse, 15 Vandam St., NYC. Aug. 11–19. Remaining performances: Sun., Aug. 12, 7:30 p.m.; Tue., Aug. 14, 7 p.m.; Thu., Aug. 16, 5 p.m. Sun., Aug. 19, 1 p.m. (866) 468-7619 or www.fringenyc.org.