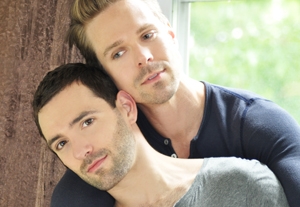 Good intentions and a brace of ingratiating performances make the new musical "A Dance for Rylie," which is part of the Planet Connections Theatre Festivity, palatable. But nothing can disguise the fact that this depiction of the death of an HIV-positive gay man suffers from pedestrian songwriting and a familiar, cliché-studded plot.
While each generation has the right to its own version of the tale of the hero cut down in the blossom of youth, it's not unreasonable for audiences to ask for more than a reiteration of the commonplace sentiment that life is sad and unfair. Unfortunately, that's all author Stephan Davis musters here. In the first half of his musical the main character falls in love and stands at the pinnacle of life; in the second he is mowed down by cruel Fate. There is no originality or drama in that arc, just a predictable series of events with a de rigueur, semi-uplifting ending. Davis' bland score doesn't contribute much either, with some songs that are fragmentary and some, such as the opening number, "This Is My Story," that are painfully obvious.
The story centers on Rylie, who has just ended a five-year relationship. His friend Samantha, an up-and-coming singer, takes him to a club, where he dances with a sweet guy named Matthew. They fall for each other, but when Rylie tells Matthew that he's HIV positive, Matthew vanishes. He soon returns, however, and the lovers get married, only to have their happiness shattered when Rylie is diagnosed with terminal cancer. Rylie makes Matthew promise to let him die with dignity, but Matthew is barred from Rylie's hospital room, and his doctors proceed to undertake extreme measures to keep him alive. When Rylie does finally die, Matthew watches a video in which Rylie tells Matthew to remember him and to keep moving forward.
Director Bob Cline wisely elicits underplayed performances from his cast that prevent the piece's soap opera elements from swamping it. As Rylie, Philip Deyesso thankfully eschews set-chewing hysterics, while Adam Ryan Tackett limns a Matthew whose optimism masks vulnerability. Kimberly Michelle Thomas is electric as Samantha, and Valerie Lemon lifts Rylie's wisecracking mother, Katherine, above stereotype.
No one is listed as set designer, which is unfortunate, because someone deserves commendation for the clever way that chairs are moved about to depict a host of urban locations. The lighting, however, detracts from the show, with a number of abrupt blackouts that chop off musical buttons, dampen applause, and create the sense that the proceedings are underrehearsed.
Overall, "A Dance for Rylie" feels more naive than bad, the work of a novice who might someday write a fresh, insightful musical. "A Dance for Rylie," though, isn't it.
Presented by Stephan Davis as part of the Planet Connections Theatre Festivity at Culture Project, 45 Bleecker St., NYC. June 1–19. Remaining performances: Sun., June 3, 8 p.m.; Fri., June 8, 4 p.m.; Sun., June 10, 10 p.m.; Wed., June 13, 5 p.m.; Tue., June 19, 6 p.m. (212) 352-3101, (866) 811-4111, www.theatermania.com, or www.planetconnections.org.