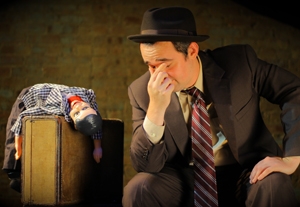 Taking place across the first 10 months of 1933, at the height of the Great Depression, Josh Billig's convoluted new drama "After the Circuit" details the struggles of comic Theo Segal to make good while trying to keep his troubled marriage together. Unfortunately, the real struggle is to maintain interest in this earnest but inert play.

Billig's greatest mistake is his fondness for backstory. Most of the action—Josh's wife's third-trimester miscarriage, his twin brother and comedy partner's death from a heroin overdose, their abandonment as boys by a feckless father, and much more—takes place before the curtain goes up. We're left with bouts of unpersuasive talk amid too many stories about the past that go on for far too long. When events do occur, they're unbelievable, as when Theo's antagonistic sister-in-law, Betsy, an ex-chorus girl, too easily decides to become his new second banana. The stereotypically Irish next-door neighbor and her polio-damaged teenage son seem to be onstage only to tell or listen to stories and are never satisfactorily integrated into the plot.

Director Matthew Singletary allows other digressions—complete comedy sketches, an a cappella rendition of an Irish folk song, Betsy's strip routine at Minsky's—that further hamper narrative drive. The committed five-person cast—Kay Capasso, Sam Hicks, Polly McKie, Christopher Sears, and Sarah Sirota—works hard, but the effort is apparent. Only Sears, as the teenager, strikes sparks of genuine feeling, perhaps because the lad is the only character who doesn't speak.

Presented by Papa Grande Productions as part of the New York International Fringe Festival at the Connelly Theater, 220 E. Fourth St., NYC. Aug. 12–25. Remaining performances: Mon., Aug. 13, 4 p.m.; Wed. Aug. 15, 4 p.m.; Sat., Aug. 18, 7:15 p.m.; Sun., Aug. 25, noon. (866) 468-7619 or www.fringenyc.org.