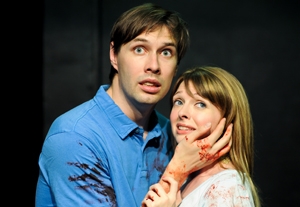 As you might suspect, the title is misleading. In "An Evening With Kirk Douglas," written by Katherine Maughan and directed by Kerry McGuire, the actor is little more than a pointless plot point for some 65 minutes of very uneven sketch-like comedy. In the first of two acts, Walter and Maisie Kingsley (Winston Noel and Morgan Grace Jarrett) go through varying degrees of hysteria after they've run over an elderly hiker on a motor trip celebrating their first wedding anniversary. Unbelievably, they've brought their victim to their motel room. Eventually, they realize he's Douglas, and their hysteria peaks for a not-too-funny blackout. Noel and Jarrett capably deliver the rhythms of nervous comedy, but the material has the air of an overextended improvisation.

In the second act, God (Noel), Jesus (Austin Rye), and Saint Peter (Brian Faas) await Douglas' arrival in heaven. Peter, an overworked, rather friendless drudge struggling to maintain a cheerful persona, has to give up a rare lunch date to meet Douglas, and after Peter welcomes some other new arrivals Douglas (Noel again, with no particular attempt at a Douglas impression) appears, and he and Peter hit it off as fast friends for another dud of a blackout. However, the writing here scores with some irreverently funny stuff, the kind of humor that seemed shocking ago decades but now is pretty much the norm.

Self-presented as part of the New York International Fringe Festival at La MaMa ETC, 74A E. Fourth St., NYC. Aug. 10–22. Remaining performances: Sat., Aug. 18, 7 p.m.; Sun., Aug. 19, 1:45 p.m.; Mon., Aug. 20, 3 p.m.; Wed., Aug. 22, 9:45 p.m.; (866) 468-7619 or www.fringenyc.org.