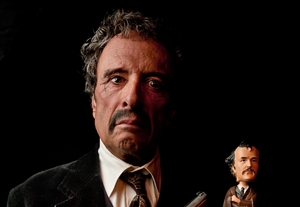 Are you one of those conspiracy theorists who believe that the capture and killing of John Wilkes Booth was a myth concocted by the government to appease a public distraught over his assassination of Lincoln? If so, you're not alone (though you're probably wrong), and the dandy one-man show "Bang! The Curse of John Wilkes Booth" is sure to tickle your fantasy. Written and performed by Scott Baker, the dramatized exploration of the notion that Booth lived on for years under different identities is cleverly conceived to inform, provoke, and entertain.

Booth's biographical facts are narrated in a stirring prologue, with Baker portraying him as a deranged, hard-drinking old man. Conjuring caricatures of myriad historical figures, Baker then offers the evidence of Booth's later life, fittingly presented in period theatrical fashion through melodramatic acting and illusory magic tricks. Be warned. The theater is as 19th century as the play: It lacks air conditioning.

Presented by the Drilling Company as part of the New York International Fringe Festival at the Gene Frankel Theatre, 24 Bond St., NYC. Aug. 11–25. Remaining performances: Fri., Aug. 17, 7:15 p.m.; Tue., Aug. 21, 5:45 p.m.; Wed., Aug. 22, 2 p.m.; Sat., Aug. 25, 7 p.m. (866) 468-7619 or www.fringenyc.org.