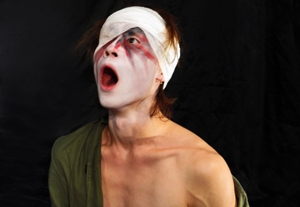 It is not easy to make a genuinely frightening piece of theater. Creepy, disturbing, suspenseful—these are easy. But there are sequences in "Buddha"—created and performed by Tokyo's Company East—whose ferocious energy and total unpredictability kept me alert in my chair, thrilled by the sensation that I was in a room where anything could happen. If only the production could have harnessed the tension of these moments, rather than spend the bulk of its hourlong running time offering a shapeless and disappointingly literal evening, "Buddha" might have been tremendous.
The energy comes from the members of Company East, a troupe of Japanese actor-dancers, who throw their bodies around La MaMa's small stage like animals in a feeding frenzy and howl like the best expressionist ghosts. They are surrounded by an elaborate hypnotizing light show by Jin Nakayama (lights) and Yoshiaki Takano (video) and a soundscape of storms and thunderous music.
It soon becomes clear, though, that director-choreographer Kenji Kawarasaki has not figured out how to convert his many impulses into theatrical ideas. His choreography is unimaginative at best, absent at worst; often the actors are killing time by flailing. Impressively abstract sequences are consistently compromised by gestures and images that make a cartoon of the chief conflict of the Buddha's life, his desperate need to detach from the body in which he was necessarily trapped. Performers grind their genitals and rub their shirtless bodies together with pained looks on their faces. In a sequence called "Birth of Buddha," an actor screams in pain as he births a human skull. Other more-confusing sequences reach too hard for contemporary relevance. A soldier in army fatigues is shot and then kills himself while an older man cries into an American flag. A man in a tacky Munch "Scream" costume shouts "I am your nightmare!" while catching three squealing hippies in a tiny butterfly net. It is impossible to tell what this mélange is meant to add up to.
It's clear that the cast members believe deeply in their project, but the theatrical vocabulary they are given to work with is too unfocused to communicate with the audience. Thrill descends to silliness long before the lights come up.
Presented by and at La MaMa ETC, 74 E. Fourth St, NYC. March 4–11. Fri. and Sat., 10 p.m.; Sun., 5:30 p.m. (212) 475-7710 or www.lamama.org.