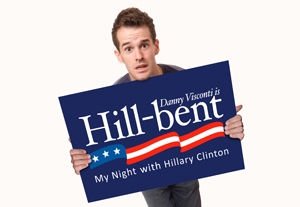 Danny Visconti is a cute chorus boy with a degree from the prestigious University of Cincinnati's College-Conservatory of Music whose primary credits consist of performing on cruise ships and pursuing his interest in sketch comedy and standup. He was also a big Hillary Clinton supporter in the 2008 election. He has combined those attributes to create a Fringe show: "Danny Visconti Is Hill-bent: My Night With Hillary Clinton."

The increasingly outrageous fantasia starts at an event at the St. Regis Hotel and proceeds across a long New York night that involves limos, liquor, lots of drugs, setting fire to the Statue of Liberty, and a trip to the famous rooftop of the gay leather bar the Eagle. Interspersed are amateurish song parodies filled with misaccents, crammed-in extra syllables, and dodgy rhymes, except for the improvised-on-a-subject-suggested-by-an-audience-member number (Paul Ryan, at the performance attended), which somehow didn't rhyme at all (not even Ryan/Lyin').

Visconti is personable, easy on the eyes, and sings well if a bit too loudly for the tiny Huron Club. His hourlong scenario is not without its charms but gets increasingly desperate in its outlandishness. Ultimately, it only diminishes what I take to have been his admirable political commitment. Still, I am glad to have learned about his "cousins," the Polish gay porn stars known as the Visconti triplets.

Presented by N + N Productions and YMBJ Theatricals as part of the New York International Fringe Festival at the Huron Club, 15 Vandam St., NYC. Aug. 11–19. Remaining performances: Sun., Aug. 12, 8:45 p.m.; Fri., Aug. 17, 4 p.m.; Sat., Aug. 18, 4 p.m.; Sun., Aug. 19, 2:15 p.m.; Fri., Aug. 24, 7 p.m. (866) 468-7619 or www.fringenyc.org.