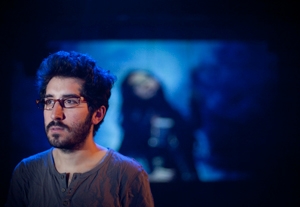 It's a shame when an ambitious multimedia play like "Degeneration X" suffers from such a myriad of organizational and technical woes. Co-creators Leah Bachar and Merideth Edwards, who respectively wrote and directed this admirably intentioned production, lean too heavily on lengthy video segments and potent animations, which suck life and rhythm out of the onstage aspects.
Case in point: We first meet our depressive protagonist in video form. Xavier is a 20-something Brooklyn artist haunted by bizarre optical hallucinations. These "visions" are embodied well by the accomplished video components, shot and edited by Jonathan Wing, including sketches that undulate as Xavier draws them, a girl in a yellow dress with flecks of gold on her face, and a broken beer bottle that swirls like it's going down a drain.
Again, the majority of these dazzling illusions happen within the filmed segments, where we see Xavier encounter them face-to-face, but they also flash intermittently on projection screens to punctuate onstage action. Too often the video cues either failed to appear, leaving the cast to vamp awkwardly, or started early. Michah B. Chartrand, who smolders onscreen as the broody Xavier, fizzles onstage, perhaps because of the lengthy breaks between live scenes.
In the midst of a visit from his flighty sister Isis, whom Bachar portrays with great care, Xavier learns that he is suffering from a rare side effect of losing his sight called Charles Bonnet Syndrome, which causes his active imagination to compensate for increasing blindness with vivid hallucinations. It's either that, according to his eager neurologist, Dr. Hendrix (Gordon Gray), or perhaps Xavier is glimpsing a parallel universe.
Edwards impishly personifies Simone, a central figure in Xavier's alternate reality, a dream girl in a yellow dress. As his condition deteriorates, Xavier and Simone fall in love, leading him to a difficult choice between realities.
Bachar and Edwards have clearly chosen their places in the piece. That both creators elected to play leading roles may account for the kooky cosmological talking points and clunky production values.

Presented by Perf Productions at the Living Theatre, 21 Clinton St., NYC. April 26–May 12. Tue.–Sat., 8 p.m. (Additional performance Sun., May 6, 2 p.m.) (212) 352-3101, (866) 441-9962, www.theatermania.com, or www.perfproductions.com.